The Ultimate Cocktail Tools Gift Guide
When it comes to choosing the right gifts for the cocktail fanatics in your life, not just anything will do. While you could spring for a bottle of their favorite booze (we have some ideas), another great way to a cocktailian's booze-soaked heart is barware. Not only will you get a firm thank-you hug, but you'll also probably get a drink out of the transaction, since they're definitely going to want to try out their new gear. Here are a few bartending and cocktailing tools that both amateur and pro cocktail nerds will love.
Have a friend who spends his or her nights reading Jerry Thomas's Bartender's Guide and lusting after antique barware? This recent collaboration between cocktail historian David Wondrich and Cocktail Kingdom has your back. The centerpiece of the collection is a one-gallon stoneware punch bowl designed to look like the punch bowls of centuries past. The bowl includes a nod to both the morality and indulgence of the 18th century in the eerie skeletal image that lurks at the bottom of the bowl and a Latin inscription that reads (roughly), "Eat, drink, converse. After death, there is no pleasure."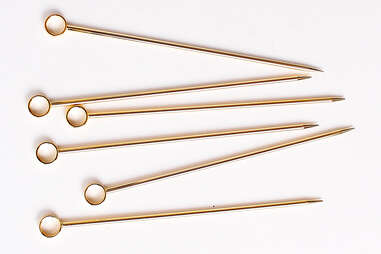 Anyone who loves Martinis or Manhattans will appreciate these fancy cocktail picks from Garden and Gun's mercantile. The gold-plated stainless steel garnish skewers give even the simplest drink a lavish spark.
This collaboration between Cocktail Kingdom and tiki royalty Jeff "Beachbum" Berry is one of the baddest cocktail spoons on the block. With a spooky skull sitting up top, it's is a great gift for both tiki enthusiasts and goth-leaning bartenders alike.
It's easy to find a tray for big cubed ice, but if you're a fan of the sphere you're almost always relegated to one cube per freeze. Thankfully, Peak answered our ice orb prayers with this quadruple sphere mold.
You don't often see squared-off knives in bars—or, well, anywhere really. But that changed when Jackson Cannon, bar director of Island Creek Oyster Bar in Boston, teamed up with R. Murphy Knives to create his ideal bar knife. The knife is super handy for all things garnish- and citrus-related. It makes seed removal easy and notching fruit garnishes a breeze. The handle is made from the super durable tropical cocobolo wood and the blade is carbon stainless steel. Though the price is high, hardcore cocktail lovers will swoon for this bad boy.
These hardwood tools from Canoe are sure to elicit appreciative gasps from their new owners. Made from cherry, maple or walnut, they each come with a different handle design and plenty of fruit and herb-crushing capabilities for those who can't do without a good Caipirinha or Mojito.
If you think a strainer is a boring gift then you haven't met this dual-metal Hawthorne strainer from Terrain. Not only is it ultra-functional, but it's also incredibly easy on the eyes—the Hallmarks of a good gift.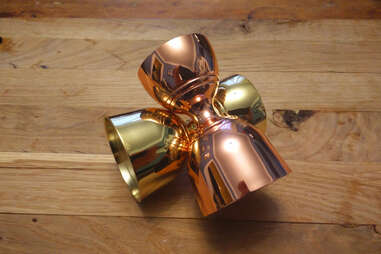 Like a good set of measuring cups is essential to bakers, a good jigger is of the utmost importance to bartenders. This particular vintage-inspired jigger from Cocktail Cartel holds one ounce on top and two on the bottom. It also has interior notches so you can easily measure in quarter or half ounce increments. We have just one question for you: copper or gold?
If you have a friend who's just getting into home bartending or has been working with less-than-awesome tools for the past few months, turn your keen gifting eye to this three-piece beauty. Not only is the sleek black-and-gold color combination swoon-worthy, but the shaker is more than it seems: It has an insulated base to keep your drinks (not your hands) cold, and it also comes with a built-in—but removable for cleaning—citrus juicer and a lid that doubles as a 1.5-ounce jigger. Yes, it's as impressive as it sounds.