The 11 Best Irish Coffee Bars in America
A really great Irish Coffee isn't just an afterthought of a drink, tacked onto the bottom of a pub menu. It isn't haphazardly made with instant coffee, well whiskey and lukewarm cream. It isn't poured into just any mug the bar happens to have around. A truly amazing Irish Coffee is crafted with quality ingredients and made with the perfect ratio of whiskey to coffee. It's served in a pre-warmed glass coffee mug. It's topped with fresh, cold whipped cream that perfectly contrasts the hot cocktail. Luckily, you don't need to go all the way to the Emerald Isle to find an amazing version of the classic drink. Here, the best bars in the United States that have mastered the art of the Irish Coffee.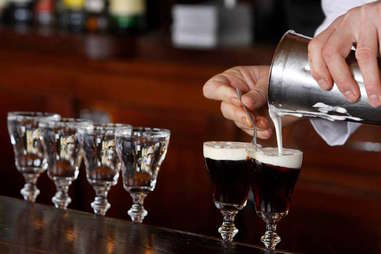 San Francisco, CA
The Irish Coffee arrived in America by way of San Francisco in 1952, when Jack Koeppler, then-owner of The Buena Vista Cafe, attempted to recreate the original Irish Coffee from the Shannon Airport in Ireland. He methodically experimented with different mixes, eventually concluding that the secret lay in the cream. When the cream was aged for 48 hours and frothed, it floated perfectly on the coffee. Koeppler's cocktail was an overnight success.
Today, the Irish Coffee at The Buena Vista Cafe still draws in crowds. Formally-dressed bartenders line up as many as 28 dainty, stemmed glasses—whose tulip shape helps regulate pours—on the bar, then fill them with hot water to warm the vessels. The cocktail is a mix of two sugar cubes, hot coffee and a slug of Tullamore Dew Irish Whiskey, but the key ingredient is still a topping of two-days-old, unsweetened whipped cream. The Buena Vista Cafe has poured millions of Irish Coffees over the years and can serve over 2,000 cups daily.
Los Angeles, CA
If you see a large, shamrock-shaped sign reading "House of Irish Coffee," then you're in the right place. As one of the oldest continuously operated bars in Los Angeles, Tom Bergin's has had plenty of practice crafting an incredible Irish Coffee—so much so that they claim to have introduced it to the United States. While The Buena Vista Cafe might have something to say about that, there's no denying that Bergin's makes the iconic cocktail well. Like their San Francisco competitors, they also use Tullamore Dew, but the LA bar opts for simple syrup instead of sugar cubes and tops the drink off with Irish Cream, whipped just thick enough to coat your finger.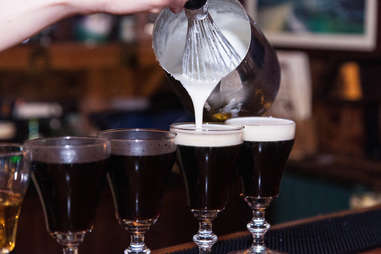 New York, NY
The Irish Coffee at the famed Dead Rabbit was developed by "King Cocktail" himself, Dale Degroff, who believes that the success of the drink relies on two non-negotiable requirements: The ratio of whiskey to coffee should be 1.5 oz to 4 oz—no more—and the cream must be hand-whisked over ice and never touch sugar. The Dead Rabbit adheres to both rules, using their own Sumatra Mandheling Coffee and premium Clontarf 1014 Irish whiskey, mixed with a rich demerara syrup heated to a perfect 78 degrees Celsius. "The finished drink should look like a pour of Guinness, with its black and white layers perfectly defined," Degroff instructed Dead Rabbit bartenders. They steadfastly obey every guideline on every order.
Minneapolis, MN
The Local took their passion for crafting a superior Irish Coffee to the next level by launching their own Irish whiskey brand, 2 Gingers, which they produce at the Kilbeggan Distillery in County Westmeath, Ireland. The bar mixes their proprietary spirit into their signature Irish Coffee, made with Guinness, brown sugar simple syrup and double-strength coffee. It's topped with a vanilla bean whipped cream and thinned with a little house-made Irish cream, whose recipe is a closely guarded secret.
Chicago, IL
If your whiskey preferences lean towards scotch, Chief O'Neill's has the Irish Coffee for you. The pub uses peated Irish single malt Connemara whiskey, which combines the smokiness of a Highland malt with the smoothness of a classic Irish whiskey. It's mixed with local, ethically sourced coffee beans and topped with freshly whipped cream. Enjoy a glass while listening to some lively Irish trad—Chief O'Neill's is known to have some of the best traditional music in the world, outside of Ireland.
New Orleans, LA
A French Quarter staple, Erin Rose's frozen Irish Coffee first debuted at Molly's at the Market in the 1980s, and it was adopted by Erin Rose in the early 2000s. The specifics of the recipe are a mystery to the public, but the bar does divulge that the cocktail is made with local dairy, local coffee, brandy and coffee liqueur. It's served in their souvenir to-go cups, and it's topped with a sprinkling of coffee grounds and an extra floater of whiskey.
Atlanta, GA
Part bar, part coffee shop, Condesa makes their Irish Coffee with coffee from Counter Culture, an ethical roaster based out of North Carolina. The beans are brewed with Cu Chulainn Irish Whiskey, a house vanilla syrup made from organic cane sugar and pure Madagascar vanilla paste, whipped-to-order cream and grated nutmeg. Customers can also choose between hot and iced Irish Coffees, no matter the season.
Portland, OR
Beverage director David Shenaut used to scoff at the Irish Coffee, believing it to be a waste of good whiskey. But then, one fateful day in 2012, he had a properly executed one in New York. Now, Raven & Rose serves their own variation on the drink, inspired by Shenaut's experience. It's made with precisely measured and pulled Spella Caffè dark roast, steamed brown sugar syrup, Paddy Irish whiskey and fresh, unsweetened cream, and garnished with three espresso beans.
Seattle, WA
This Seattle pub showcases the Pacific Northwest's bounty of local artisans and producers in their Irish Coffee. The base is brewed with beans from Washington roasting company Caffè Appassionato, and the cream, which is extra-rich thanks to a minimum butterfat content of 40 percent, comes from Medosweet Farms. The cream's high fat content makes for a decadent float atop a mix of fresh coffee and Tullamore Dew, which is lightly sweetened with one muddled sugar cube.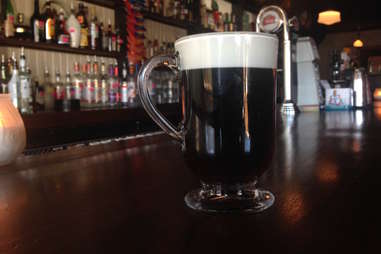 Charlotte, NC
This inviting pub's Irish Coffee is a warm welcome in a glass, lovingly made with a special attention to detail. Bartenders vigorously stir sugar into whiskey to ensure an ultra-smooth blend, and they shake heavy cream by hand to order. The robust, smooth taste comes from fair trade Pure Intentions coffee beans, harvested in Oaxaca and roasted in Charlotte, which pair well with the nutty, vanilla notes of Jameson Irish Whiskey.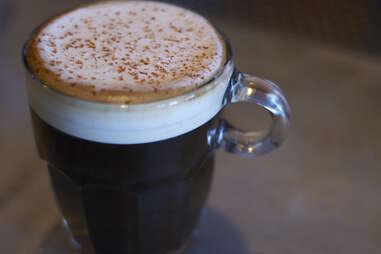 Fort Defiance
Brooklyn, NY
The New York Times once dubbed the Irish Coffee at Fort Defiance "the best in the known world." Bartenders start by filling a mug halfway with boiling water and placing a small mixing tin in the mug, creating a mini double boiler. Then they pour 1.5 oz of buttery, pot still-distilled Powers Irish Whiskey and 1 oz of simple syrup into the tin to warm it. After emptying the mug of water and filling it with the sweet whiskey mixture, bartenders pour a shot of Big Trouble Counter Culture espresso—which has notes of toasted almond and caramel—directly from the espresso machine into the mug. The coffee cocktail gets a topping of frothy, shaken, chilled heavy cream and freshly grated cinnamon. If it's not the world's best, as The Times claimed, it comes pretty darn close.