Tiki's Founders: Don the Beachcomber and Trader Vic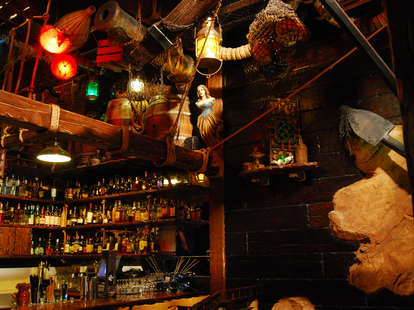 Smuggler's Cove tiki bar.

| bittermelon/Flickr
Smuggler's Cove tiki bar.

| bittermelon/Flickr
For more than 80 years, cocktail bars from Los Angeles to New York City have been steadily slinging rum, fruit and tiny paper umbrellas to customers looking for Polynesia in a glass. And after the neon-colored syrup-bomb bastardizations of the 1980s and 1990s, the last decade has seen a glorious worldwide tiki renaissance. Today, flamboyant fruit drinks are a staple on high-end cocktail menus around the world, and a gang of highly focused tiki joints have sprouted, from Smuggler's Cove (San Francisco) to Latitude 29 (New Orleans) to Three Dots and a Dash (Chicago), and Mother of Pearl (New York City).
Unlike many cocktail styles with origins shrouded in mystery, tiki's beginnings are fairly well documented. It all goes back to two men, who each started a bar in the 1930s.
Don the Beachcomber
When 27-year-old Ernest Gantt opened the first Don the Beachcomber location in 1934, it was just a small 24-seat watering hole in Los Angeles. A traveller by nature, Gantt had accrued a respectable collection of odds and ends he found washed up on the beach and elsewhere during South Pacific excursions. He used those treasures to decorate his tropical escape.
His drinks, while branded as "Polynesian cocktails," were actually Polynesian-inspired SoCal cocktails made with ingredients like falernum and fresh, local produce. They were new, they were distinct, and they were wildly popular. Thanks to both the eclectic decor and Gantt's delicious "rhum rhapsodies," the bar quickly caught on, and Gantt eventually gave in fully to his tropical calling by changing his name to Donn Beach.
During WWII, Beach shipped out with the U.S. Air Force, leaving his bar in the care of his ex-wife Cara Irene. Not long after, he was injured when his ship was attacked by a German U-boat. He spent the rest of his enlistment doing what he did best—running rest camps for recovering airmen in places like the French Riviera and Venice. Upon returning to the U.S., Beach found out that Irene had been busy. She had expanded Don the Beachcomber from one to 16 locations across California and a few other states. After signing on as a consultant for the new chain, Beach packed his bags and headed for Hawaii, where he spent the rest of his days manning a bar on Waikiki Beach.
Beach's drinks were nothing short of revolutionary. We can thank him for cocktails like the Zombie, Pearl Diver and Three Dots and a Dash, as well as essential spiced syrups and mixes still found in tiki recipes today. We can also thank Beach for making it nearly impossible to track down those defining recipes.
Beach was loathe to share his recipes with others. The formulas for many of his signature cocktails, particularly the Zombie, were mysteriously coded by numbers referring to bottles on his bar. It may sound paranoid, but it was also practical. Other bars often tried to poach Beach's bartenders to learn his secrets, but it never worked. Beach didn't teach anyone except his most trusted and loyal employees how to make his proprietary cocktails, syrups and mixes.
Beach's drinks remained largely mysterious throughout his career, and he took some of his secrets with him to the grave when he died in 1989 at the age of 81. But in the mid-aughts, bartender and tiki aficionado Jeff "Beachbum" Berry was finally able to track down the original recipe for the Zombie with the help of Jennifer Santiago, the daughter of one of the bartenders Beach hired in 1937, and Mike Buhen, bartender at Tiki-Ti in San Francisco and son of one of the original Don the Beachcomber bartenders. Now, Beach's legacy lives on, not only in the rediscovered Zombie recipe, but also in the modern tiki renaissance—if not for him, tiki wouldn't be the delightfully kitschy, rum-soaked movement it is today.
Trader Vic
Victor Bergeron (later known as Trader Vic) was a fan of Don the Beachcomber from the beginning—so much so that he even admitted to swiping a few ideas from the Los Angeles hotspot to use in his own Oakland bar, Hinky Dink's.
"I felt I could do it better," Bergeron once said.
In 1937, Bergeron transformed Hinky Dink's from a modest bar into the tiki den known as Trader Vic's, a moniker that came from Bergeron's habit of exchanging drinks and food for flotsam and jetsam that guests brought in, which he used to decorate the bar.
Bergeron's most famous credited creation is the Mai Tai, a blend of two rums, lime juice, orange curaçao and orgeat. He allegedly came up with the famous recipe in 1944, but there's a rumor that it was one of the drink's he lifted from Don the Beachcomber. Bergeron always insisted otherwise, though. "I originated the Mai Tai," he once said in an interview with The New York Times. "Anybody who says I didn't create this drink is a stinker."
Bergeron is also credited with creating tiki classics like the Fog Cutter and El Diablo, and he is responsible for one of the main tiki tomes, Trader Vic's Book of Food & Drink. It was the first in a series of tiki-centric recipe books he went on to author. Throughout the rest of his life, Bergeron continued to expand his popular tiki haven into a multi-million dollar chain with 25 locations around the world. In 1951, he even followed his hero, friend and rival, Donn Beach, to Hawaii, where he opened a Trader Vic's in Honolulu.
Not only did he cement himself in the tiki hall of fame with his signature drinks and successful restaurant chain, but, to top it all off, Bergeron was a legendary storyteller. His most famous dinner party anecdote involved his wooden leg. (He lost his leg as a child due to tuberculosis.) He would often tell tales about how he lost his leg to a shark and would even drive a knife into it to get reactions out of guests. That's hardcore tiki.
Since his death in 1984—just a few weeks before Trader Vic's 50th anniversary—Bergeron's mini tropical empire has lived on with 15 locations around the world, including in Oman, Seychelles, Saudi Arabia and Japan. The man who began as a tiki imitator managed to take Beach's original concept to a global level, bringing colorful cocktails and pu-pu platters to anyone with a taste for the tropics.
Thanks to both Beach and Bergeron, tiki became more than just a cocktail trend. Those two men made it a lifestyle. The next time you find yourself holding a Mai Tai, be sure to raise your tiki mug to the two original tiki masters.