Sponsored By
Captain Morgan
The Greatest Sports Bars In America
Sponsored By
Captain Morgan
America might not have invented sports bars—we have to think there was a grappa spot outside the Athens hippodrome where fans waited for the latest news from the chariot races—but let's be honest: we perfected them. The best sports bars blend things we know and love—athletic competition, good food and drink, and camaraderie—in optimal ways. Sometimes those ways are tried-and-true, other times they're unexpected. However it shakes out, though, the formula is unbeatable. The sports bar is as American as apple pie, but a whole lot more fun.
With a packed slate of mouth-watering games on the horizon—from NHL and NBA action to March Madness and whatever else floats your boat—we thought it was a good time to isolate the very best sports bars in this great land of ours. Here are 10 of them ranging from New York to Portland, Oregon, from San Diego to Philly, and points in between. If you don't have a great time in any one of them, it can mean only one thing: your team is tanking, hard (and you're not amped about next year's draft class).
New York
The sports paraphernalia at Standings, a tiny spot in Manhattan's East Village, is layers deep. There's a distinct absence of open space on the walls and ceiling, a wild mix of pennants, team posters, newspaper clippings, souvenir cups, and more covering every available inch. Seriously, it's hoarder-level memorabilia decor. The most unique and best part, however, is the large chalkboard that lists standings (get it?) from whichever season is in full swing. This spot is laser-focused on one thing—sports—and everything inside works to further that purpose.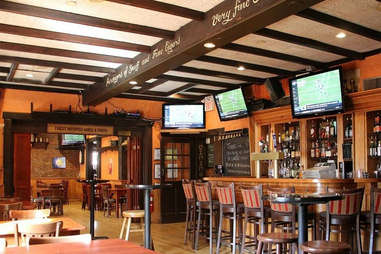 Philadelphia
Located in the historic South Street Headhouse district, in a brick building that dates to 1788, Cavanaugh's Headhouse is a handsome joint with an ace up its sleeve: it has two floors and seven separate rooms, six of them equipped with bars. In a world awash in refurbished this and nostalgia-focused that, Cavanaugh's stands out for the thought its owners put into transforming a beautiful old space into paradise for the modern sports fan. You're here for craft beer from around the country, a hearty cocktail list (including a Founding Father's Toddy), quality pub fare, plenty of TVs, and a different vibe in each room that makes the place feel like six bars in one.
Charlotte
Did you know the Hornets went to the playoffs last season, and they're on track to return this year? And while the Panthers had a terrible 2016 season, they went to the Super Bowl the year before, and have a superstar quarterback. What we're saying is, don't sleep on Charlotte as a sports town. Draught sits in the center of it all, quite literally. It's steps from the Panthers' home, the Bank of America Stadium, and near the Time Warner Cable Arena, where the Hornets play. Location, location, location! It also has a killer weekend Bloody Mary and Mimosa bar, perfect for rolling a late-morning meal into an afternoon of football or hoops viewing. Standout menu items include pimento cheese fritters, poutine fries, and duck tacos.
Indianapolis
You can probably watch the Colts or the Pacers here, but the best sports bar in Indianapolis specializes in—wait for it—soccer. Hey, Andrew Luck's dad is a former pro soccer exec (really), and, regardless of what athletic drama dominates its numerous HDTVs, Chatham Tap delivers on several levels—starting with their Prince Dean's Angel Wings and Meaty Kuzola pizza that's topped with pepperoni, Chatham Tap sausage, and rasher bacon. Looks amazing, tastes even better. The place is modeled after an English pub, so naturally it has a legit fish and chips, and if (when?) the Colts or Pacers ever return to their glory days, or IU makes a run in March, you can surely tune them in alongside all the footy on the screens.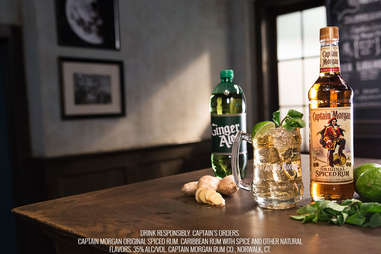 Looking for an easy, go-to cocktail order?
There are plenty of uncomplicated, easy-to-make, and delicious cocktails out there. You just need to add them to your repertoire for when your turn finally comes up at the bar. Here are five of them we picked out with Captain Morgan Original Spiced Rum that are guaranteed to please your whole crew, even Gary, the picky one.
Detroit
A classic spot in a classic American city. While Nemo's won't blow you away with its modernity—check out the dial-up-style website—you won't find a more diehard group of fans anywhere in the country. Hit up the old-school tavern early on Lions game days, as the breakfast buffet and Bloody Mary Bar are exceptional; then hop a ride on the shuttle to the stadium. Following the game, head back to Nemo's to celebrate the victory or commiserate over the defeat. Don't miss their burger, with its tangy mustard sauce, that consistently ranks among Motown's best.
Dallas
Fitness is not the first thing that comes to mind when you think "America's best sports bars," but hear us out. The Katy Trail, formerly an abandoned railroad line, is a 3.5-mile stretch of perfectly manicured path that's possibly the best place in Dallas to work up a sweat. Katy Trail Ice House offers ample opportunity to infuse some calories into your system, post-workout. There are 50 draft lines behind the 50-foot bar, plenty of televisions, an entirely-made-from-scratch menu featuring killer burgers, Dark Beer Venison Chili and Seared Ahi tuna Salad, alongside a separate menu of Texas BBQ. You can watch the game inside, or from the glorious patio alongside the trail.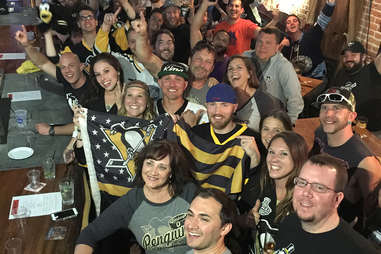 Denver
Downtown Denver is having a moment, and Society Sports and Spirits, which opened in 2014, is a great embodiment of that. This place mixes the glory of the Rockies with the understanding that Denver's cheap, high-quality living attracts residents from all over. Speaking of the former, Society offers up more than 50 whiskies from Colorado alone, all highlighted in a back bar that's exclusive without being elitist. (Look for the ᴡʜɪꜱᴋᴇʏ sign at the entrance of the bar to know you're in the right place.) As for the latter, they have a "Tailgate" concept tailored to fans of teams from all over, including several big-time college football programs, as well as the NFL's Texans, Steelers, and of course, Broncos. At Society, you'll find your people.
Phoenix
Question: where can you watch the ponies while also taking in every NFL or March Madness game available on a given day, shooting pool, and enjoying a tasty, inexpensive beverage? Answer: The Armadillo Grill, a gem in Phoenix's emerging downtown area that features closed-circuit horse-racing broadcasts, eight gargantuan TVs around the center bar, and happy hour all day on Mondays (along with free billiards). They also have Golden Tee Golf and a full pub menu featuring fried pickle appetizers, fried chicken served over mashed potatoes and smothered in mushroom cream gravy, and three kinds of sliders.
Portland
Led by the late, legendary coach Dr. Jack Ramsay, the 1977 Portland Trail Blazers were one of the more fascinating championship teams in NBA history—a scrappy underdog with badass Maurice Lucas at power forward and crunchy Bill Walton at center. Their legend lives on at the ultra-fun Spirit of 77, where the walls are made of wood from old basketball court floors, vintage arcade games line the perimeter, and there's a functioning old-school scoreboard. The raftered high ceilings echo the shouts of fans watching games on the enormous projection screen, playing (free!) pop-a-shot, skee-ball, and foosball, and enjoying copious amounts of shockingly good, locally sourced food, including Cascade Farm chicken wings, and sausage breakfast sliders. They also have an indoor bike rack, which is just so Portland, and cinches this place as a venue that fits perfectly into its unique local landscape while also checking all of the universal sports-bar boxes.
San Diego
This place is not strictly a sports bar—or not only a sports bar—but we chose it because it's so damn fun. Sure, you can definitely watch Padres games here (and share a chuckle with pals over that LA Chargers logo), along with NCAA hoops and whatever else you're into. But the High Dive transcends the sports-bar genre with a breezy outdoor patio, 20 taps, tiki-inspired cocktails, and Christmas lights hanging from the ceiling year round. Something else that transcends its genre: The Kraken, the High Dive's one-pound burger topped with gorgonzola cheese, smoked bacon, grilled onions, and sandwiched between two toasted sriracha-infused peanut butter & jelly sandwiches. Release The Kraken, and the good times.