5 Women Who Quit Their Jobs to Make Booze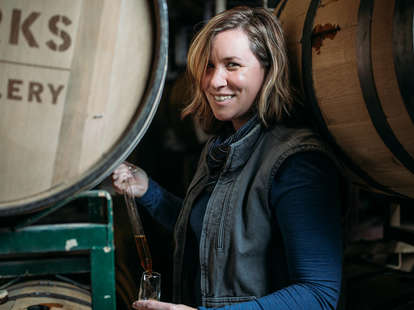 Leaving a desk job behind to open your own business, go back to school, or make any other dramatic career change is a fantasy nearly everyone has. For most, these dreams will never be realized, but there are some who do manage to successfully remake their livelihoods—in fact, it's a common story in the distilling industry.
That's because the U.S. can't get enough booze. The number of boutique and craft distilleries is on the rise—as is demand—which makes pursuing a job in the liquor industry a much more viable career path than it was half a century ago. Another thing that's changed over the past 50 years: gender politics. These days, more and more women are joining—and rising through—the distilling ranks, making everything from vodka to whiskey.
There's little doubt amongst women in the industry that distilling is still a boy's club. Though women have always been involved in making and selling booze, distilling lags far behind the bartending industry when it comes to employing women—60 percent of bartenders are female. "No one has the numbers [on how many women are in the distilling industry] at the moment," says Samantha Katz, founder of Ladies of American Distilleries (LOAD), an organization that launched in 2011 that provides support and resources to women in the distilling industry. "It's something I have been working on." What Katz does know, though, is that number is growing.
"LOAD has gone from a handful of members at the start to over 600—most of whom are women owning, working for or building their distilleries," says Katz. "By engaging and shining a light on women in the industry, we are fostering a burgeoning community of female entrepreneurs and spirits experts."
We talked to five women from around the country about what it was like for them to quit their day jobs to make ridiculously good booze—and what advice they have for anyone looking to do the same.
Lacie Thornton, M.S., Grand Traverse Distillery, Traverse City, MI
Former career: Fishery Scientist
"I took an unconventional path, but I'm not sure anyone takes a conventional path to the distilling world," says Lacie Thornton, second distiller at Grand Traverse Distillery in Traverse City, Michigan, where she makes whiskey from grains sourced from "15 miles down the road." Thornton has a masters degree in coastal zone management from Nova Southeastern University in Fort Lauderdale, Florida, and, before taking a job at Grand Traverse Distillery in June 2016, she worked for both the government and a private corporation as a fishery scientist.
"I wasn't happy," she says. "I'd gone to college essentially for seven years and wasn't really happy in the field." Eventually, after moving back to her home state of Michigan, she began sending out resumes to distilleries—nine in total—hoping to make the leap from fishery scientist to distiller. "I'm a biologist, so the whole process of fermentation has always intrigued me," she says, adding that she was welcomed with open arms by the distilling community in Michigan where, as far as she knows, there's only one other female distiller.
Thornton didn't immediately jump into the industry as a full-time distiller, however. When she started at Grand Traverse in 2016—with no prior experience and only a basic understanding of distilling—she was hired as part-time production help, lending a hand with bottling or distilling shifts when needed. "I worked my butt off and continued to do so to prove that women can do this—it's not a man's game anymore," she says. "I hustle and I work hard and that's how I got to where I am now. I have a lot to learn, but I've risen through the ranks pretty fast."
As she helps Grand Traverse amp up whiskey production so that the company can begin selling its product outside of Michigan, Thornton says she couldn't be happier with her transition into making booze fulltime. "I know it's crazy, but I wake up at 5:30 in the morning and I'm excited to go into work and get the still started," she says. "[The change] was worth it as a human to be happy. I know I'm very lucky in that respect."
For anyone looking to take the same chance as Thornton, she has some advice: "Research, research, research! Now maybe that's just the scientist in me, but knowing what you're going to be jumping into is critical," she says, adding that it's important to "go on as many tours as you can, network with others in the industry, and always ask questions about the things you don't know."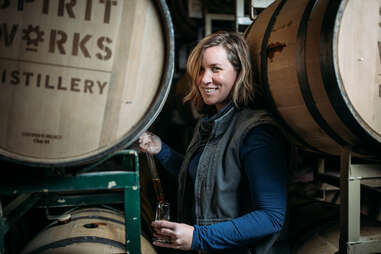 Ashby Marshall, Spirit Works, Sebastopol, CA
Former career: Greenpeace Crew Member
Before opening Spirit Works with her husband, Timo, in 2012, Ashby Marshall spent a good chunk of her time at sea as a crew member on a research vessel for Greenpeace, the environmental activism organization. Her job was to document glacial retreat and other environmental destructions around the world.
Two years before eventually quitting her day job, Marshall and her husband—who also worked for Greenpeace—began toying with the idea of opening up their own distillery as an offshoot of his family's sloe gin distillery in England. Even after quitting, it was another three years before Spirit Works opened its doors—and there were plenty of challenges along the way. First, they discovered that the blackthorn bush, which produces sloe berries, is an invasive species in the U.S.—as Marshall notes, not the best way for an environmental activist to start a new career. So the duo first began by making a classic gin expression and eventually imported sloe berries from the U.K. to make the first traditionally macerated sloe gin in the U.S. Vodka and whiskey soon followed.
"Distilling was the part that came the easiest. [The difficult part] was running a business," she says. "Neither of us had ever run our own business before, so we started from the very basics and took QuickBooks courses and were always ready to put our hands up with things we knew we weren't experts at."
Now, the distillery runs smoothly and, with windows looking onto the stills from the tasting room, is completely transparent in its operations. "The most rewarding thing for us is that we're really making something from scratch by hand and seeing people enjoy it," she says, adding that her husband is the only guy at the distillery—a move that wasn't intentional, but the result of hiring the best people for the job. From opening until recently, Marshall was the head distiller at Spirit Works, but she has passed on the torch to Lauren Patz, who quit her day job as a chocolate maker after catching the whiskey-making bug. "We've continued the female reign in distillation here," says Marshall.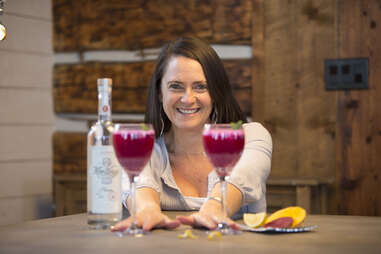 Karen Hoskin, Montanya Distillers, Crested Butte, CO
Former career: Designer, Brand Builder
A little over nine years ago, Karen Hoskin, founder and distiller of Montanya Distillers in Crested Butte, Colorado, decided she'd had enough of her job. She owned her own brand-building business, designing everything from logos and websites to marketing campaigns and ads for new companies.
"One morning in about March of 2008 I woke up and said, 'I am so tired,'" Hoskin recalls. "I was tired of pulling all nighters to reach deadlines on a regular basis. At the end, I would hand everything over to someone else and it would be theirs and their company and their dream. I got a little envious of my customers. I wanted my own dream and my own thing that I could keep at the end of the day."
Later that year, she opened Montanya Distillers. "I came up with the idea while on a beach in Tobacco Caye [in Belize]." Her husband asked her what she'd do if she quit her job and, without hesitation, she replied, "I want to make rum."
The new role was a natural fit. Hoskin had been a rum fanatic for years and, after visiting Guatemala and seeing what Ron Zacapa was doing, the Colorado-based designer realized she wanted to carve her place in the same mountain rum-making tradition. But while the brand building came easily to her, she admits that she knew nothing about distilling. That led her to spend a lot of quality time with the team at Peach Street Distillers in Palisade, Colorado, learning the ins and outs of the business. "They were amazing and answered every question and made me feel so welcomed in the conversation," she says. Within a few months, Hoskin received her TTB permit to begin distilling, and in November 2008, she opened her distillery—and tasting room—doors in Silverton, Colorado, and began serving her first batch of rum, aged six to eight weeks.
"It's taken nine-plus years to figure out how it works and functions," she says. "It's been challenging, but it's part of what makes Montanya unique. We've grown organically."
It wasn't all smooth sailing, though. "The usual equations for building a business just don't seem to apply in the craft spirits industry," she says. "[It's not as simple as] make a good product, mark it up, sell it, make money." Big brand competition meant pouring excessive amounts of money into the business. "I didn't take on investors until year five, which made for some incredibly lean years," she says. "If I were giving myself advice now, I'd have gone out for investor money much earlier or kept my day job way longer."
Now, Hoskin is making a silver and a gold rum, and she uses the platform she's built for herself in the industry to advocate for causes she believes in, including sustainability, transparency and women's advancement. In April, she gave the keynote speech at the American Distilling Institute Conference. "It was really alarming to stand up in front of 1,500 people and see that less than 10 percent of them are women," she says, but adds that she's loved every minute of her distilling journey. "It's a gender bending story in an industry of white men. It's been the most fun I've had doing anything."
Pia Carusone, Republic Restoratives Distillery, Washington D.C.
Former career: Chief of Staff to Congresswoman Gabby Giffords, Executive Director of Americans for Responsible Solutions PAC
Politics aren't often a deciding factor when it comes to opening a distillery—unless you're Pia Carusone.
Carusone worked on Capitol Hill for five years, running political campaigns and working for elected officials before a life-altering event forced her to reevaluate her career. "My final gig on the hill was as chief of staff to Arizona Congresswoman Gabby Giffords," she says. "The assassination attempt happened in January 2011, and that was, in some ways, the catalyst for this project."
Carusone and her business partner and longtime friend Rachel Gardner launched Republic Restoratives Distillery in 2016—one of the largest crowdfunded distilleries in the world and the first woman-owned distillery in D.C. history.
They'd been talking and daydreaming about starting their own distillery for a while. "You can imagine my life changed very dramatically after the shooting—both professionally and personally," she says. "I was in the spotlight all the time and on national news and faced with all these existential questions: 'If life was over tomorrow, what would you regret?' You can't help asking yourself that question if you find yourself in a situation like that."
Family health issues forced Gardner, who also worked in government, to consider these questions as well.
After the shooting, Carusone was appointed to Homeland Security by President Obama and, for a year, worked on the aftermath of events like Hurricane Sandy and the Sandy Hook Elementary School shooting in Newtown, Connecticut. Carusone eventually went back to work with Giffords to help launch Americans for Responsible Solutions PAC in an effort to combat gun violence in the U.S. It wound up being her last full-time government job before opening the distillery.
"It turned out that D.C. is the best place to do this sort of work," she says, noting its liberal laws compared to other states. "We found an incredible warehouse space and once that happened it felt like it was real." Though she still does some consulting work on Capitol Hill, her day job is now all about making and sourcing great products, in the form of Civic Vodka, Borough Bourbon and Rodham Rye. The duo just celebrated Republic Restoratives' first anniversary.
"It's been incredible," says Carusone. "I feel like I've gotten a master's in business and finance. In addition to distilling, there's so much business strategy."
She and Gardner, who is now the lead distiller at Republic Restoratives, also pride themselves on the company's ideals and the community they've built at the distillery and its accompanying cocktail bar. The distillery regularly hosts community events, yoga classes and bottling parties, and the bar has a host of regulars. Unlike other distilleries, they're not apolitical and certainly don't shy away from promoting causes they care about.
"It's the idea that you have to be on the side of your neighbors in this environment, whoever they are—and we aren't shy about that," says Carusone. Right now, Republic Restoratives' products are only available in D.C. and in one county in Maryland, but the duo plans to expand the distillery's market in 2018.
Bridget Firtle, The Noble Experiment, Brooklyn, NY
Former career: Research Investment Analyst
In 2012, just over a year after Bridget Firtle decided to start making rum, she introduced New York to Owney's, a white rum made at Firtle's Brooklyn-based distillery, The Noble Experiment.
It was a dramatic switch from her previous life working at a hedge fund as a research and investment analyst. Though her life in finance started out covering consumer staples, like household goods, she eventually "weaseled" her way into a position as the global alcohol and beverage analyst. "I spent five years researching and investing in global beer, wine and spirits companies," she says. "I was really excited about the potential for craft spirits in the U.S. and how much history the country has with distilled spirits." Firtle began to fall in love with the idea of making her own craft spirit and left the hedge fund at the end of 2011.
"The leap was easy," she says. "I was just so excited and passionate about my idea and vision for this company, and that was really driving and motivating me. It's been building the business since that's been challenging and rewarding in many ways."
Firtle's fascination with history made it easy to choose what to make at The Noble Experiment. "Rum is my favorite spirit and I think it's totally underrepresented, underloved, underappreciated—especially within the craft distilling movement—which is ironic since it's the first spirit we distilled in America," she says, noting that The Noble Experiment's name is a tongue-in-cheek reference to Prohibition and that the rum is named for a famous Harlem bootlegger.
Firtle says one of the biggest benefits of her career switch is that now she's her own boss, and she also finds reward in the transition into making a tangible product. "I think what's cool about it is that it's hard work and sweat and dirt and making a product that's fully manual labor," she says. "Then you get the reward of enjoying it with friends and families and strangers."