The 8 Best Cocktail Ingredients to Buy at Trader Joe's
Trader Joe's is a wonderful place filled with many wonderful things: cookies and chocolate-covered morsels as far as they eye can see, inexpensive and delicious frozen appetizers and pizzas, unexpected dried fruits and surprisingly great beauty and home products. But as great as it is, it can be overwhelming at times, packed with hoards of intense shoppers and innumerable distractions—which is how we discovered another category in which Trader Joe's succeeds brilliantly: cocktails. While the nationwide chain does sell its own liquor, wine and beer, we're more interested in some of the less obvious TJ-branded mixables, from hot sauce to spice blends to juices. So we took a closer look at Trader Joe's shelves to test and taste products to determine the 10 best TJ-branded items to use in cocktails.
Bloody Mary Mixer, $2.99 for 32oz
Though we're often wary of pre-bottled Bloody Mary mix, this clam juice-spiked mixer was refreshingly good. Though it falls on the sweeter side of the spectrum, thanks to its high concentration of tomato purée, it doesn't contain any tongue-twisting ingredients, making it a great alternative to the homemade stuff. Add a little sriracha or horseradish to the mix and you'll be set.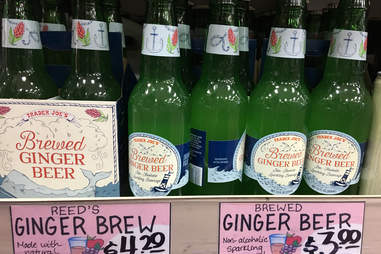 Brewed Ginger Beer, $3.99 for 4-12oz bottles
Moscow Mule and Dark and Stormy fans rejoice: This spicy, fizzy ginger beer is your new best friend. Though the price is a bit steep for only four bottles, you won't be disappointed by the drink's flavor—aside from the ginger juice and ginger extract, it gets a zippy kick from lemon and lime juice concentrates.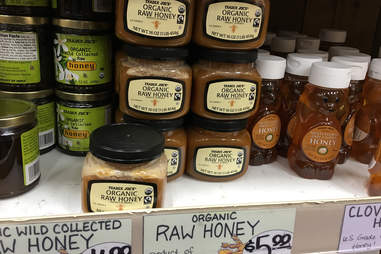 Organic Raw Honey, $5.99 for 16oz
If you're looking to make the best Bee's Knees or Penicillin possible, grab a tub of this pure, delightful honey for your home bar. Though filtered, the honey doesn't go through any cooking processes, so all of its natural flavor is still there. It does well in cocktails as it's not too sweet, and you get plenty of that floral, creamy honey essence.
Organic Fruit Spread, $2.99 for 10oz
If you've been into cocktails for a while, you know that jam is a solid addition to almost any cocktail, packing both flavor and texture. But the one issue we often take with most jams, preserves and fruit spreads at grocery stories is the excessive sugar content. Not because we're overly sensitive about our diets, but because we don't like cloying cocktails. The best thing about these fruit spreads from Trader Joe's—which come in a variety of flavors from the usual Strawberry and Raspberry to more unexpected Super Fruit (cherry, grape, blueberry and pomegranate) and Mango—is that they taste like you're actually biting into fresh fruit. Add a spoonful of the Raspberry to your Whiskey Sour or some Mango to your Caipirinha for a fruity transformation.
Juices, $2.99 to $4.99 for about 16oz
If you like a touch a freshness in your cocktails (but don't have the time or patience for squeezing your own fruits), Trader Joe's has a juice section that will give your drinks just the right amount of fruit or vegetable power. From classic grapefruit to Blood Orange Persimmon to rainbow-hued bottles of cold-pressed juices, TJ's has you covered. All you have to do is add a couple of ounces of vodka, rum or tequila and you're good to go.
Giant Chalkidiki Olives, $2.29 for 17.6oz
If nothing else, Trader Joe's will at least help you get your garnish game on point. These fantastically large olives hail from Greece and add a nice amount of salty, briney flavor to Martinis and Bloody Marys. The brine would also be a great addition to either drink—we know you're craving a Dirty Martini right now. And if you prefer your olives without pits, you can also regularly find classic pimento-stuffed Manzanilla olives as well as others injected with everything from jalapeños to blue cheese.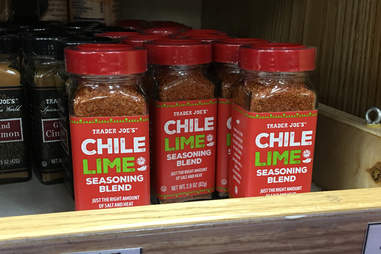 Chili Lime Seasoning Blend, $1.99 for 2.9oz
Bloody Marys and Margaritas are nothing without a killer rim. And thanks to this citrusy, salty, slightly spicy seasoning that manages to avoid being overpoweringly saline, you'll never have to omit this very important ingredient.
Spritzers and Sparkling Juices, $2.49 for 25.4oz
A no-brainer Trader Joe's cocktail ingredient, these big bubbly bottles can easily be transformed into cocktails or punches in a pinch. The Blackberry Spritzer has an intense, fresh blackberry flavor, and makes a lovely drink with a base of tequila and equal parts soda water. The Sparkling Juices are a little less intense, falling on the sweeter side, but are easy and downright delicious mixed with any of your favorite spirits.