We Drank Garbage Cocktails and They Were Delicious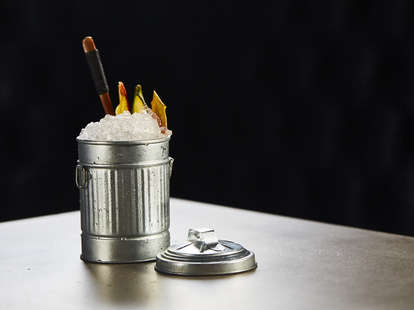 Sustainability isn't the sexiest topic in the bar and restaurant industry, but it's a necessary conversation we have to have if we plan on making any dents in our big, fat food waste problem. It wasn't always an issue for bars, especially those who made the majority of their money slinging draught beers and shots. But when the craft cocktail movement rolled in, so did more and more perishable ingredients that simply end up in the garbage if they don't make it into a drink in time. To help combat this issue, two award-winning, London-based bartenders launched Trash Tiki, an anti-waste cocktail initiative that tackles the topic of sustainability in a fun, irreverent way.
"We had a firsthand look at what the craft cocktail community was throwing away on a daily basis and realized that too many bars believe that it's too big of a problem to turn around," says Kelsey Ramage, co-founder of Trash Tiki and bartender at Dandelyan. "It's about making small, easy changes while at the same time showing that you can still be loud, fast, and fun while making good drinks that don't mess up the planet."
Before a Trash Tiki event takes place, Ramage—along with co-founder Iain Griffiths of Mr Lyan—speaks with the host bar to find out what kinds of scraps they discard on a daily basis. From there, they whip the leftovers into shiny, new cocktail ingredients from cordials to infusions to syrups. And because they work with a diverse group of partners (think everything from ramen joints to tiki bars), each cocktail menu is wildly different from the one before.
Ramage and Griffiths launched Trash Tiki in late 2016 after their successful wastED London pop-up garnered interest from industry vets and consumers alike. Now, the sustainable bar experience is going on a 10-city North American tour that kicked off on July 22 in New Orleans during Tales of the Cocktail. Ramage and Griffiths have partnered with Ford's Gin for the tour, a spirits brand that uses sustainable business practices wherever possible.
We're all about the do-good mentality, but still wondered how garbage cocktails would actually taste. So we scooted over to the Ace Hotel in NOLA during the last day of Tales to see what the fuss was about. Though the rooftop pool portion of the soirée got rained out, the merrymaking ensued indoors—sunglasses, tropical shirts, pool floats and all. We were each given a shaker tin to present to the bartender when we ordered. These tins were used as both mixing vessels and in lieu of disposable cups. We ordered the Blood of Kapu Caps, made with Caña Brava Rum, grapefruit stock (grapefruit husks boiled in water, combined with sugar, salt and acid, then boiled again), melon pulp grenadine, Pernod, absinthe and a lime coin oleo-saccharum, which was made with the discarded ends of the green citrus fruit.
The verdict: pretty damn tasty. Another surprisingly good sipper was the Penthouse Smash, which featured Ford's Gin and "Peach Pulp Beer Sizz," made from the Ace Hotel's beer tap overflow and bruised peaches from a neighboring restaurant.
These drinks were certainly not for the faint of heart, as the liquor flavor really stood out in comparison to other tiki drinks that use sweeter ingredients like fresh fruit juices to cover up that potent kick. But Ramage and Griffiths' expertise is clear when you think about the time and creativity that goes into mixing these potions from literal trash.
Trash Tiki recently made a stop in Houston and will be traveling to cities like Miami, New York, Detroit and Vancouver over the course of their tour. If you're interested in swigging delicious tropical drinks whilst doing your part to save the planet, make sure to drop into an event near you.