Well-crafted cocktails need not be constrained to ground level locales. As destinations beckon from your latest Flight Deal email or Hopper alert, plan to take your inflight imbibing experience to new heights with these TSA-compliant cocktail hacks from some of the industry's top luminaries.

Expert: Cody Goldstein, Founder of Muddling Memories
Hack: Skyline Sangria
Elevate the standard red wine mini with what Cody Goldstein dubs the Skyline Sangria. "Post-security clearance, grab an apple, an orange and a plastic knife from the terminal grocery. Once you've settled in your seat, ask the stewardess for some OJ, cranberry cocktail and a mini of red wine. Fill a cup with pieces of the fruit, top with juice and wine, and let your fruit soak in the Sangria." We tested this hack with a short flight in mind, letting the fruit soak for 10 minutes. The result? An instant upgrade to red wine that feels like going from coach to business class.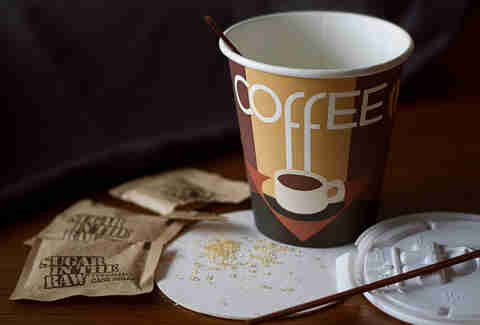 Expert: Céline Bossart, Spirits and Travel Writer
Hack: In-Your-Seat Simple Syrup
Simple syrup is a tried and true cocktail ingredient that's easy to source and even easier to make. "You can find everything inside the airport if not on the plane itself," Céline Bossart says. Her hack calls for a few packets of Sugar In The Raw (copped pre-flight from the terminal Starbucks) and an inflight order of hot water, a coffee cup and a stir stick. The rest is pretty effortless. "You're essentially just melting the sugar, and eyeballing equal parts sugar and hot water, to avoid graininess in your drink." Fulfill limitless libation fancies—from a Tom Collins to a French 75—with this simple tip.
Expert: Tobin Ludwig, Co-founder of Hella Cocktail Co.
Hack: Instant Inflight Cocktail Upgrade
Think of bitters as the salt and pepper of the cocktail world: They're a great way to add complexity to a cocktail that needs just a little something. When traveling, Tobin Ludwig always carries a few bottles of Hella Bitters in tow to add depth to somewhat bland drinks like Vodka Sodas and G&Ts. "At cruising altitude, your senses are already deprived. Adding orange bitters injects aromatic flavors to a drink to compensate for the dullness at 30,000 feet, and makes your cocktail more exciting and enjoyable," he says. Ludwig recommends a modified Old Fashioned with Hella Bitters, a sugar packet and a mini bottle of whiskey from the airplane drinks cart.
Expert: Me (writer Shanika Hillocks)
Hack: Tray Table Michelada
Beyoncé knows: Hot sauce in your bag is a necessity—especially when flying. The Michelada is one of the easiest in-flight libations to make, simply snag a beer, some Bloody Mary mix and an extra cup from the flight attendant (ice, optional). Pour a little bit of the mix into the cup, top it with beer, then elevate your beer-tail with a few dashes from a mini bottle of Cholula or Sriracha (which you have smartly remembered to pack in your carry-on) and, if available, a squeeze of lime. You'll unlock the answer to elevating unremarkable canned beer—and make boring flights a thing of the past.