Real friends are great and all, but TV friends are forever. And over the course of many, many hours spent binging our way through Netflix and Hulu, we've collected quite a cast of on-air besties, with whom we honestly spend more time than our real life loved ones. If only we could consecrate these friendships at the bar. Here are the TV characters we'd most like to take out for a drink.
Bob Belcher, Bob's Burgers
We'd love to pop onto a stool at Bob's Burgers and grab a puntastic burger and a beer (the generic kind advertised as being $4 on the menu) with our favorite animated chef. It's not just that Bob is voiced by H. Jon Benjamin, who also lends his sultry tones to our favorite cartoon action hero, Archer (although that doesn't hurt). We're also interested in Bob's brilliant mind. If he can come up with burger names like 50 Ways to Leave Your Guava and Three Beets to the Wind, just think of what he'd dream up for our cocktails.
Cosmo Kramer, Seinfeld
We wouldn't even have to leave our place to drink with Kramer. He'd just show up and let himself in. After a few rounds, he might even perform his impression of a Hennigan's scotch ad, before showing off his drinking tricks. Seinfeld may be about nothing, but we're pretty sure an evening with Kramer would be everything.
Recommended Video
Thrillist's Best (and the Rest): What You Actually Need to Know About Natural Wine
Peggy Olson, Mad Men
You're probably thinking, why not Don or Sterling? Well, Don is predisposed to depressing flashbacks and morose musings, while a night with Sterling would probably end in lost pants and injured dignity. For our money, Peggy would be the better bar buddy—toward the end of the show's run when she's a fully empowered badass, that is—because she's confident enough to kick back with a few brews and hang with the boys, but she won't leave you sloppy drunk and in the lurch should the night take a turn.
Louie, Louie
Louie C.K. is one of our favorite comedians, and while his TV alter ego isn't quite as successful as the real deal, we're pretty sure a night out with either would be pretty fun. Real-life Louie is so fond of dive bars he even made a show about one with Steve Buscemi called Horace and Pete (which is way darker and depressing than any classic "comedy" but still totally worth a watch, by the way), so a Boilermaker at a dive would be the obvious go-to for our dream drinking occasion. Funny as that night would undoubtedly be, we'd love to witness the morning after even more.
Liz Lemon, 30 Rock
Not only would we brave midtown Manhattan to hang out with the crew of TGS after they got out work at 30 Rock, but we actually really want to go to there. Five minutes into a round of hill-people milk with Lemon and we're sure we'd be lizzing and or jacking from excitement. It would undoubtedly be an early night, though. Gotta get home to work on that night cheese.
Barney Stinson, How I Met Your Mother
The bro of all bros, the wingman of all wingmen, Barney would be our first call for backup when looking for love at the bar. With a "challenge accepted" and without a moment to lose, Barney would arrive at our side like a knight in shining suit. No matter the turnout, you can be sure the night would be legen—wait for it—dary.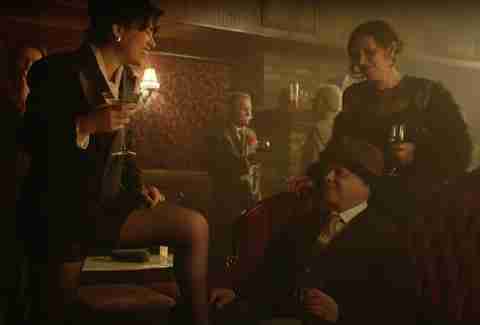 Abbi and Ilana, Broad City
Things would definitely get weird with the Broad City gals, but they're experts at sniffing out cheap drinks in the sticker-shock fields of New York. Whether they're dodging gangly models at a pretentious rooftop party or letting their alter egos run wild at a Prohibition-era speakeasy, the duo would be the ultimate guides to drinking in the city. We'd happily follow them anywhere—but let's be honest; we'd probably end up at Bed, Bath & Beyond.
Odafin Tutuola, Law & Order: Special Victims Unit
You didn't even know that's what Ice-T's character was named, did you? We'd have to catch him in between late nights working at the station and days spent chasing perps around the city, but the scheduling nightmare would be worth it for a chance to hear Ice-T, sorry, Tutuola tell us exactly what is and is not messed up. Also maybe he would bring B.D. Wong.
Dev Shah, Master of None
Assuming we can find a bar that satisfies his Yelp investigation, we'd love to spend an evening with Dev, sipping Negronis and debating the nuances of Eminem's "Lose Yourself" at great length. While Dev has the New York scene on lock, we bet he's got some decent tips on Nashville drinking culture as well, should we be tempted to fly away a la minute.
Scully and Mulder, X-Files
We want to believe, and after a few drinks we bet we would. The FBI agents would make quite a couple of bar mates, with Mulder spinning his conspiracy theories, and Scully reining him in with a scowl. The agents would probably appreciate a low key dive after a long day chasing down aliens and mutants (a dog-friendly one, so Queequeg can join), as long as there were also sunflower seeds available for Mulder.
Homer Simpson, The Simpsons
We've previously discussed our love of the congenial drinking scene at Moe's Tavern, which in turn has inspired our infatuation with real world knockoffs, but honestly, the main attraction of a drink at Moe's would be sitting beside Homer. Talking to that loveable idiot, cares would just drift away, as he dispersed koans like "the answer to life's problems aren't at the bottom of a bottle. They're on TV."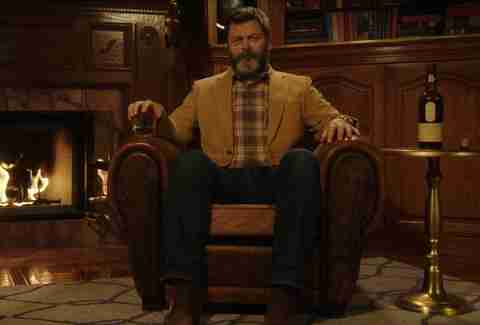 Ron Swanson, Parks and Rec
We'd drink whiskey because "clear alcohols are for rich women on diets." And we'd drink it in silence.
Samantha Jones, Sex in the City
Everyone can use a Cosmo and some real talk, and of the Sex and the City gals, we'd most like to have Samantha bend our ears on how we're screwing up our sex lives. Enough about us, though. We really just want to hear more about her latest tryst.
All of the Golden Girls
We could learn a thing or two from our elders—like how to drink and live well to a ripe old age—and that goes quadruple for the Golden Girls foursome. We feel like Dorothy would hold her own at any of our usual haunts, but a healthy nightcap in the group's Miami kitchen sounds pretty good. Nice Southern girl that she is, Blanche has got to have some spicy whiskey squirreled away somewhere in those cupboards. Of course there would be cheesecake too.
Tyrion Lannister, Game of Thrones
OK, sitting down to a drink anywhere in Westeros (or Essos, for that matter) is admittedly a dangerous proposition, but it would be worth the risk to slam back a few flagons of wine with the Imp. Between his vast knowledge of drinking games and his lexicon of great jokes, entertainment would be one thing we wouldn't have to worry about. Same goes for finding the appropriate drinkware.
Lucille Bluth, Arrested Development
Don't let the haters convince you otherwise, Lucille is the hero of Arrested Development, a pillar of strength constantly harangued by her ungrateful children. She deserves that vodka first thing in the morning—with a chaser of toast if you must—and we're right there with her with our own lowball full of liquid endurance.
Ernest Marks, Atlanta
Since Earn is a drinker on a budget, we'd offer to buy him a round in exchange for some insider intel on the Atlanta rap circuit and a quick selfie with Paper Boi for the 'gram. Then we'd stand back and watch him throw next-level side-eye at pretty much everyone in the bar.
Blake, Adam and Anders, Workaholics
Happy hour calls, boys. The drug-addled half-wits of Workaholics have been known to throw some epic parties, but we'd prefer to share a relaxed beer on the rooftop with the trio. Bonus: They have a pool, which, admittedly, is occasionally filled with dead fish or clogged with a "chupacabraj." But still. It's a pool.