The 5 Types of Drinkers You'll See at All Family Gatherings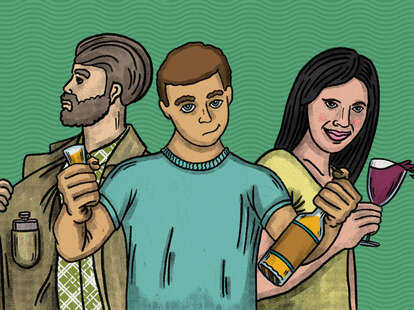 It's that time of year again—every other weekend seems to provide another excuse for the family to come together for mandatory bonding over a dinner that takes far too long. It always starts out pleasant enough, but then mom breaks out the punch bowl and cousin Steve gets into the liquor cabinet, and what started as a pleasant made-for-Hallmark movie turns into a Syfy original. It's all thanks to these five types of drinkers you'll see at every family get together: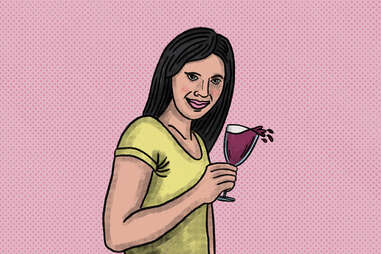 The Lightweight
There's always one: Mom or grandma or great uncle Jim finishes up that single glass of Chardonnay and suddenly you're being pulled over to the couch to reminisce over photo albums, their eyes watering up with wine-soaked tears. And it's only 6:30. With hours to go and three-quarters of a bottle of Chardonnay left to fuel the fire, it's going to be a long night of, "Look at your little butt!"
The Life of the Party
That over-eager cousin or sibling is not satisfied to sit back with a beer and make polite conversation. They want to turn this family dinner into a full-on rager, pulling you into the kitchen to do shots of whatever strange liqueur they found in your grandparents' pantry (most likely creme de menthe). They might've even snuck a six-pack of Cranberry Lemonade Four Loko into the house—and they saved a can just for you. Woo!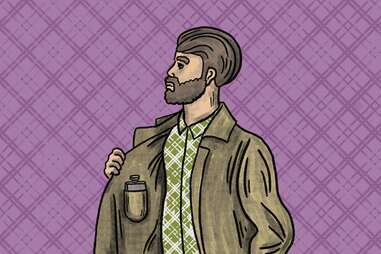 The Pusher
Your aunt or uncle has traveled around the world and seems to have a bottle of some strange local liquor in their purse or jacket pocket at all times. Some time between that last bite of turkey and dessert, they'll lean over to you like some caricature of an '80s drug dealer and say, "Pssst! You wanna try something?" Usually it's fairly safe but occasionally it contains snake blood. Proceed with caution.
The Storyteller
After dad's third nightcap you're all ready to leave—but not so fast. It's storytime. Just as everyone is about to get up from the table he launches into one of his epic narratives, which always starts with a prologue and never leaves out any detail. Is this the one about his year-long feud with the neighbor's dog? You better settle in and pour yourself another drink.
The Picky Drinker
Only one kind of wine or whiskey is acceptable to this family member—everything else is pure swill. Your family knows to keep this one, very specific bottle on hand at all times, or else experience the passive aggressive wrath of the Picky Drinker. Doesn't sound like anyone in your family? It's probably you.