Find Out What Kind of Dad You Are Based on What You Drink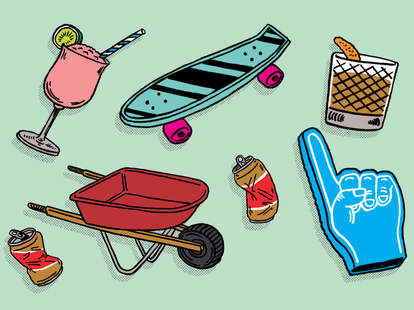 Dads are complex creatures. While some may spout endless embarrassing jokes, clad in their light blue, high waisted jeans and baseball caps, others are self-proclaimed workaholics, barely taking time off to eat, let alone drink. While it's impossible to place every dad into a stereotypical box, what a dad drinks says a lot about his parenting personality—for better or worse.
Here's what kind of dad you are based on your favorite drink.
If You Drink Craft Beer/Scotch, You're an Overprotective Dad
We know, you want "only the best" for your kids—kind of like how you want only the best when it comes to your drinks, whether you're sipping a triple IPA or a glass of Lagavulin neat. But sometimes your fine tastes get the best of you and make you lose perspective. Go on, live a little. A Bud Light—or later curfew—once in awhile won't hurt. 
If You Drink Tequila and Mezcal, You're a Dad's Dad
Does the taste of tequila and mezcal remind you of the good ol' days? Do you laugh at all of your own jokes? Yeah, we thought so. Don't worry; your bad dad jokes get more endearing every year—but your kids will probably never stop cringing. Thankfully, you're always able to have a good laugh with your other dad friends—and the jokes just keep getting goofier as the Margaritas and tequila shots keep coming at your neighborhood Chili's.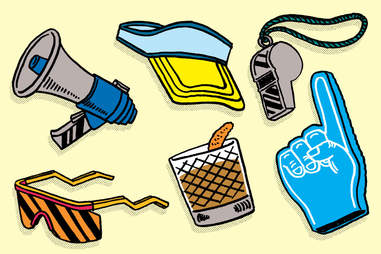 Mark Yocca/Supercall
If You Drink American Whiskey, You're a Wannabe Coach Dad
Some dads like yelling advice ("Serpentine, sport!" "Sweep the leg!") during their kids' basketball and football games as much as they like debating politics at the dinner table. If you count yourself among those types, our guess is you're all about American whiskey. Bourbon, rye, Tennessee whisky—you like it all, preferably neat or on the rocks. Like you've said a thousand times: Too many mixers just weight it down, also, get a haircut.  
If You Drink Vodka Sodas and Gin & Tonics, You're a Health-Conscious Dad
Waking up at 5 a.m. to work out is a tall order for most—but for you, the health-conscious dad, it's the only logical way to start the day. You're as unlikely to sip on a calorie-laden Piña Colada as you are to wolf down a greasy pizza (read: never). But when you does choose to indulge, it's a safe bet you'll opt for something light and fizzy, like a Vodka Soda or Gin & Tonic.
Mark Yocca/Supercall
If You Drink Rum and Tiki Cocktails, You're a Young-at-Heart Dad
A backwards baseball cap, cargo shorts and a Mai Tai in hand: All signs point to a dad who feels as young now as he did in his early 20s. Though it's sometimes fun to have a dad who likes to hang with the crew, you don't always know when you've gone a little overboard. Remember that time you tried to tackle that rock climbing wall with your kids' friends—until you remembered your bum knee half way through? Shake up a Painkiller and tell us the story.
If You Drink "Whatever's Cold," You're an Old-School Dad
"Back in my day…" Every kid hears these little nuggets of wisdom from their parents once in awhile, but some dads have the pesky habit of waxing poetic about the "good old days" on a daily basis. These dads are also probably not too keen on asking for directions when they need it, and answer "whatever's cold" when asked what they'd like to drink. All in all, you're not too picky as long as you're not forced to stray too far from what you're used to—just keep out of here with that noisy rock music. 
Mark Yocca/Supercall
If You Drink Bud Light and Natty Light, You're a Domestic Dad
Dads who can't get enough cheap domestic beer can usually be found astride a lawn mower with a case of those precious ice cold brews nearby. We all know the domestic dad: He loves to do yard work, he's always turning off the lights ("Save energy, save money!") and he refuses to pay a professional handyman for home improvements, opting instead to watch Youtube tutorials and read back issues of This Old House. With those domestic tendencies comes domestic tastes. You prefer the tried-and-true flavor of perfectly chilled suds like Bud Light, Natural Light and—on special occasions—Coors Banquet.
If You Drink Limited Edition Spirits and Rare Wines, You're a Workaholic Dad
It's hard to convince you to slow down long enough to enjoy a solid drink. But when you're swayed, you're likely to reach for a bottle that's worthy of your precious time off—whether it's a limited-edition scotch, an elusive bottle of Pappy Van Winkle or a bottle of Bordeaux as old as your grown children. You may be a workaholic, but damn if you don't know how to enjoy a drink.