The 3 Major Types of Vermouth and How to Use Them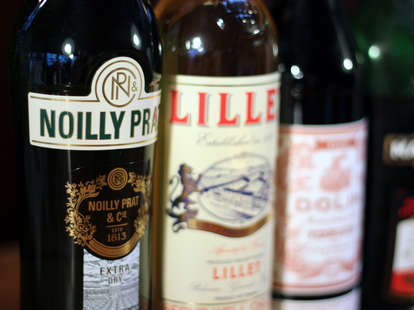 Will Shenton / Wikimedia Commons
Will Shenton / Wikimedia Commons
If you're new to drinking vermouth, the category of aromatized wine can be confusing and somewhat daunting to understand. You may find yourself standing in the liquor store, asking things like, "Is there a difference between white and red vermouth?" and "What does blanc or bianco even mean?" If you've ever pondered these vermouth questions, this will hopefully give you the answers that you seek. Here, we cover the three major types of vermouth, what distinguishes them from one another, and how to use them. Soon, you'll be the one educating confused shoppers staring at the vermouth section blankly.
Sweet
What Is It:
Also referred to as red, rosso or rojo, this type of vermouth is more robust, richer and sweeter than white vermouth stylings. While sweet vermouth was traditionally made with a red wine base, it's now more commonly made with a white wine base. The wine is fortified with high proof alcohol (most commonly an unaged brandy), infused with botanicals and sweetened with up to 15 percent sugar.
How to Use It:
Sweet vermouth pairs well with aged spirits like bourbon or rye, scotch, and dark rum. Classic cocktails that use sweet vermouth include the Manhattan, Negroni and Rob Roy. While sweet vermouth can be sipped straight, it's often too sweet to be enjoyable on its own.
Bottles to Buy:
Some of our favorite bottles of sweet vermouth are Carpano Antica Formula (barrel aged, big, juicy and robust), Carpano Punt e Mes (bittersweet and herbal), Contratto Vermouth Rosso (bright, fruity, floral and red wine-esque), and Cocchi Vermouth di Torino (rich, chocolatey, bitter and earthy).
Dry
What Is It:
This style of vermouth is typically bone dry, with no sugar added in the process, and is made from white wine grapes. Like sweet vermouth, the wine used to make dry vermouth is infused with botanicals—which tend to be more savory or herbal than fruity—and fortified with an unaged spirit. Dry vermouths tend to be more citrusy, herbaceous and floral than sweet vermouths. What grape is used as the base (or if it's allowed time to mature and rest in barrels, concrete or glass) will determine how naturally sweet or bone dry a dry vermouth is.
How to Use It:
The most common use for dry vermouth is in a classic Martini—it pairs well with lighter spirits like gin, vodka and tequila. Dry vermouth can also be used in combination with sweet vermouths or other sweetened liqueurs (or amaros like Campari) to dry out a cocktail and make it less saccharine.
Bottles to Buy:
Some noteworthy bottles of dry vermouth are Noilly Prat (biscuity, with a crisp minerality), Vermouth Routin (vegetal and herbaceous), and Dolin Dry (citrusy and light).
Blanc / Bianco
What Is It:
Labeled as a blanc vermouth in France and a bianco vermouth in Italy, this style is not bone dry like a dry vermouth, or as fully sweetened as a sweet vermouth. Blanc vermouths lie somewhere in between the two types and can range in sweetness from one brand to another. While this style of vermouth can still have the light floral or herbal flavors of a dry vermouth, blanc vermouths can also be richer—with notes of cinnamon, nutmeg and vanilla—like a sweet vermouth. It can be made with white grapes or a combination of white and red grapes to create a semi-dry rosé vermouth.
How to Use It:
Blanc vermouths are extremely versatile behind the bar. They can still be used in a Dry Martini or a Vesper for a hint of sweetness to round out the drink, or they can be used in a Manhattan for a drier version of the cocktail. Blanc vermouths are also incredible sipped straight, over ice or in a Highball with seltzer. They have the perfect balance and sweetness to stand up on their own.
Bottles to Buy:
Blanc vermouths that we generally buy can do double duty—our preferred bottles not only work well in a variety of cocktails, but they can be sipped straight, too. Some of our favorite bottlings are Cocchi Americano (bittersweet, citrusy, floral and buttery all at once), Mauro Vergano Bianco (vegetal, herbal and bittersweet), Lillet Blanc (tons of floralility with a honeyed sweetness), Mancino Bianco Ambrato (grapefruit, chamomile, menthol and ginger), and Dolin Blanc (Cotton Candy grapes, apricots, wet stone and honeysuckle).