These Ugly Christmas Sweaters Have Special Places for Your Favorite Bottle of Booze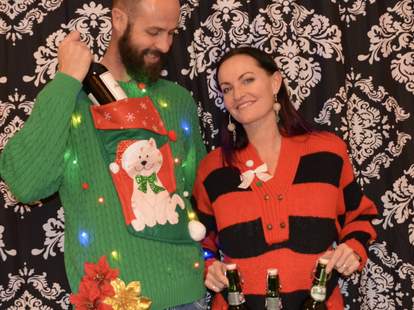 Good news for anyone who has yet to ironically purchase an ugly Christmas sweater this year: Now they come with special places for your drink of choice. Etsy seller Your Sassy Grandma has a line of absolutely hideous holiday party wear with pouches sized to hold everything from a single flask to an entire bottle of whiskey or wine. A quick warning to anyone doing their holiday shopping in the office—large holes in the (ahem) upper chest area seem to be a big stylistic focus for Your Sassy Grandma, so some of the pictures of both the male and female sweater models are moderately NSFW.
But it's not just the deliberate wardrobe malfunctions that make the sweaters standout. According to the store's page "most of [the] sweaters are one of a kind, so you won't be caught wearing the same sweater as everyone else." Of course, if none of the designs are exactly the ugly sweater you've been looking for, the larger bottle pouches look to just be Christmas stockings, so if you want to engage in a little DIY action, you could make your own alcohol holding garment by sewing a stocking on to the sweater of your choice.
Because Your Sassy Grandma says each sweater is unique, their prices range from about $40 to $53. But don't those seem like entirely reasonable amounts of money to pay for the privilege of carting around your holiday drink like a kangaroo?