Gin has been the drink of the poor, the stodgy spirit of your grandparents and now, the cool kid. Over the last few years in London, the category has exploded, with pubs featuring craft gin lists and artisanal distilleries popping up across the city, making it a veritable eden for juniper lovers. From a behind-the-scenes look at how it is made to interactive history tours to a gin-themed hotel, here are the best gin-soaked spots to visit in London right now.
Recommended Video
Really Dough's Mark & Scott Take a Bunch of Shots, Do Blind Pizza Taste Test, Argue a Lot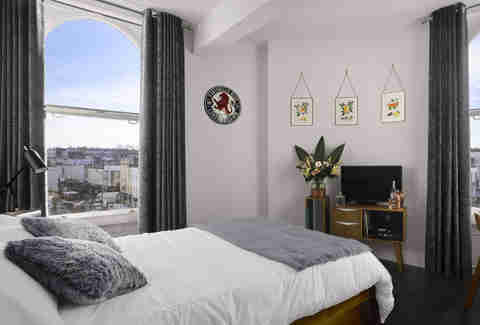 Visit a few bars in London and you'll be convinced that people are eating, drinking and sleeping gin. But that's actually happening in the three boutique guest rooms at Portobello Road's Distillery. While the hotel's location in Notting Hill is a good location for exploring West London, there's enough to do at the Distillery to keep you busy all day. On the ground floor, there's the Resting Room, a cocktail bar that serves British food, while upstairs there's GinTonica, a tapas restaurant that boasts a list of 100 gins from around the world. But gin geeks should head right to the Ginsitute in the basement of the building. A former public house from the 1800s, it's now part museum and part classroom. You learn about gin history over some cocktails, and then move over to the blending room, where you nose different botanical distillates to come up with your own custom blend. You get to take home a bottle of your own creation, as well as one of Portobello Road's.
186 Portobello Road, Rooms are £150, Ginstitute tickets cost £120
Get a Gin History Lesson from the Museum of London

This monthly walking tour delves into London's first gin craze, which started when English soldiers got a taste of Dutch genever (aka Dutch Courage) during the 80 Years War. The spirit took off during the reign of William of Orange, the leader of the Dutch Republic who became King of England in the late 1600's, who allowed unlicensed gin production and taxed imported spirits. Unfortunately, that led to the creation of spirits adulterated with turpentine and sulfuric acid to mimic the taste of juniper—and people drinking it by the liter because it was so cheap. On this walking tour of London's West End, you'll learn about the old gin palaces, as well as the prostitutes that used to be a staple of Covent Garden and the grisly crimes tied to gin. It's not all Dickensian, though—the tour ends up in a cute 16th century pub with a free Gin & Tonic, completely turpentine free.
Meeting point announced when tickets are purchased, £20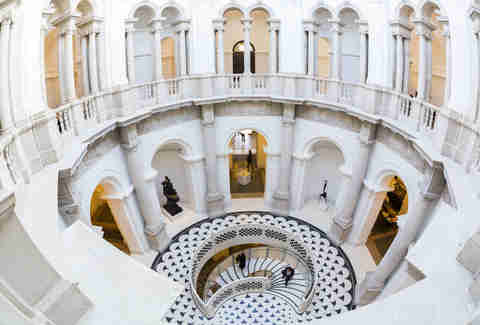 Gaze Upon Gin's Deadly Past at the Tate Britain

The most famous images from that first gin craze are "Gin Lane" and its sister piece, "Beer Street," by William Hogarth. Created in the mid-1700's, both are streetscapes and were part of a campaign against the sale of cheap gin, which at the time was sold by about one in four houses in London. "Gin Lane" depicts a drunken mother dropping her child, a beggar and his dog fighting for a bone, people fighting in the street and lining up at the pawnbroker, and a burial in the background. Things are a lot rosier on "Beer Street," where residents are fat and happy, there's a butcher and a fish wife with bountiful wares, while others are working in the background, improving the city while the pawnbroker goes out of business. The prints were published as a pair, and they, along with social commentary by Hogarth's friend Henry Fielding, lead to the Gin Act, which prohibited gin distillers from selling to unlicensed merchants while upping fees, effectively shutting down many of the small gin shops. "Gin Lane" is displayed at Tate Britain while "Beer Street" is usually at the British Museum, but sadly, isn't on display right now.
Tate Britain, Millbank, Westminster; entry free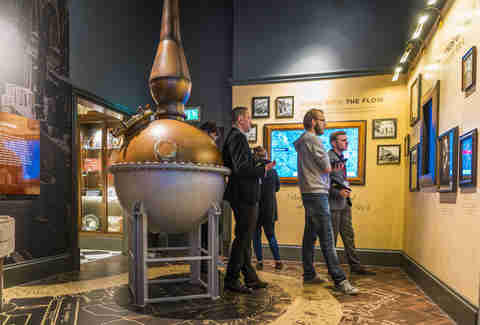 Get an Interactive Distillery Tour at the Beefeater Distillery

After the Gin Act clamped down on cheap gin production, there was the rise of the "gentleman distillers" who made a high-quality product and took advantage of all the spices and botanicals that were being traded in London. After the invention of the continuous column still, it was cheaper to make a higher quality distillate, and less sugar was needed to cover up the taste, leading to the rise of London Dry gin. While you'd think you'd have to be in London to make it, it's only a style of gin, and many have moved production outside of the city, like Tanqueray and Gordon's. The oldest to still remain in London is Beefeater, named for the Yeoman Warders that guard the Tower of London. This should be your first distillery stop because you get a full history of gin in London in an interactive tour with an iPad, so you can dork out as little or as much as you want, as well as a look at the production side. It's worth springing for the VIP tour, because it ends with a comparative gin tasting, so you can try gins side-by-side and figure out which one you like best.
20 Montford Place, London; Tours start at £12

OK, this distillery isn't technically in London, but it's key to understanding gin today, super cool, and takes about an hour and a half by train (and either bus or short taxi ride) to get to from the capital. During the 1970's and 1980's, vodka displaced gin as a spirit of choice, in a large part because the packaging was way cooler. Michel Roux, the man behind the Absolut bottle, came up with an idea for Bombay to tweak the recipe for Bombay Dry Gin. The Sapphire recipe added grains of paradise and cubeb berries for a more floral, peppery taste, and then was packaged in distinctive blue bottles. It became a gateway gin for vodka fans. The spirit was a hit, and helped revitalize the category.
At the distillery, you can visit two impressive glass greenhouses heated by the stills, where visitors can see and learn about the botanicals in gin, and then nose each botanical to determine what kind of cocktails they'd likely enjoy at the bar afterwards.
Laverstoke Mill, London Road, Whitchurch; Tickets start at £16

A big player in reigniting the modern gin craze in London in 2009 is Sipsmith Distillery, the first traditional copper pot distillery to open in the city since 1820. It was started by two school friends who recruited drinks historian Jared Brown to nail down a traditional, flavorful London Dry gin. A tour includes tasting through the whole range of gins, from a juniper-heavy overproof gin to one made with sloe berries. On Tuesdays, the distillery hosts a weekly supper club, where after the tour, the group moves to a nearby restaurant to continue the festivities.
83 Cranbrook Rd, Chiswick, Tours start at £25

If you want to check out several bars in a particular London neighborhood in one go, try a Gin Journey. Options include Shoreditch, Bermondsey and Notting Hill, and will likely include a visit to a distillery or two as well as a few bars, where you'll try five cocktails and five different craft gins. You're carted around on a very nice shuttle bus, on which you'll learn about gin and play trivia. A recent Gin Journey to Bermondsey was led by the founder of Victory Gin—which uses a unique pressurized cold distilling process that reduces water waste, and sells its gin in eco-friendly pouches—and stopped by Bermondsey Distillery, a tiny distillery that operates out of a street market stall.
Meeting point announced when tickets are purchased; Starts at £60

We get it; you've learned everything there is to know about gin in London. It's probably time to just drink it and have some fun. There are nine different outposts of the London Cocktail Club in the city, and each specializes in a spirit. The Goodge Street location is gin-focused with 32 gins behind the bar. And while the staff there can help you find your next favorite or create a unique cocktail, this isn't a stuffy cocktail bar. Music is blaring, people are dancing and some bartenders are spitting fire.
61 Goodge St, Fitzrovia