How to Throw the Ultimate Spring Break Blowout Bash
Not everyone has the means to go on a wild spring break vacation—and that's totally OK. For the most part, classic, all-inclusive spring break destinations like Punta Cana and South Padre Island are just overcrowded sandboxes filled with sweaty strangers chugging syrupy frozen Daiquiris while trying to cram into a lukewarm swimming pool. You deserve better than that. You deserve an epic party free of watered down beer and sunburnt close-talkers—one that you and your friends will be reminiscing about for years to come. Good news: You can throw said party yourself, no plane tickets needed. So button up your finest tropical shirt, dust off the punch bowl and get the beats bumping, because this is how to throw the ultimate spring break bash.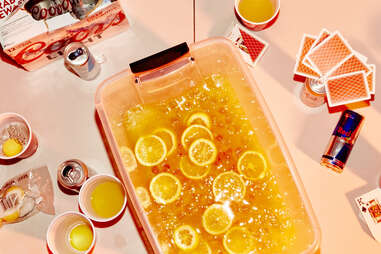 Go All out on Booze
Spring break would be nothing without the alcohol that fuels it—but that doesn't mean just any old cocktail will do. Spring break booze is over the top (see our double-decker punch, which is literally one punch over the top of another). It's massive (see our gallon-sized beachy beverages). And it's Jungle Juice (see our foolproof recipe for the classic college punch), which is, of course, best served in a giant storage tub that you can trash the next day.
Make Way for a Dance Floor
How are you going to bust out your best Worm or Running Man if there's no space for you to jam? No one's saying you have to rent a parquet surface. Just push all your furniture against the walls and set up an aux cord DJ station where your most talented friend can spin fire tunes, which, it should go without saying, should primarily consist of the dirtiest rap possible and heart-thumping EDM. Pro move: Invest in a cool laser light machine or disco ball to really set the mood.
Set up a Tribal Tat Station
Spring break isn't spring break until someone f*cks up his or her life by getting a regrettable tribal tattoo. Make that experience just as fun and a lot less permanent by hiring a henna artist to apply temporary tats (or just buy a kit and go at it yourself). Need some ideas? Barbed wire designs are always cool, as are lower-back butterflies and foreign phrases that translate to things like "noodles" and "dog." The fun will continue onto the next day when your friends text their parents pics of their new neck ink.
Get Wet and Wild
Your house or apartment might not come with a waterslide like some tropical resorts, but it can be equipped with a Slip 'N Slide/baby pool combo if you have enough yard space. Don't feel like hitting up the Toys R Us? All you need is a large tarp, garden hose and bubble bath to create a Discovery Zone-level play area without all the screaming children and bored parents.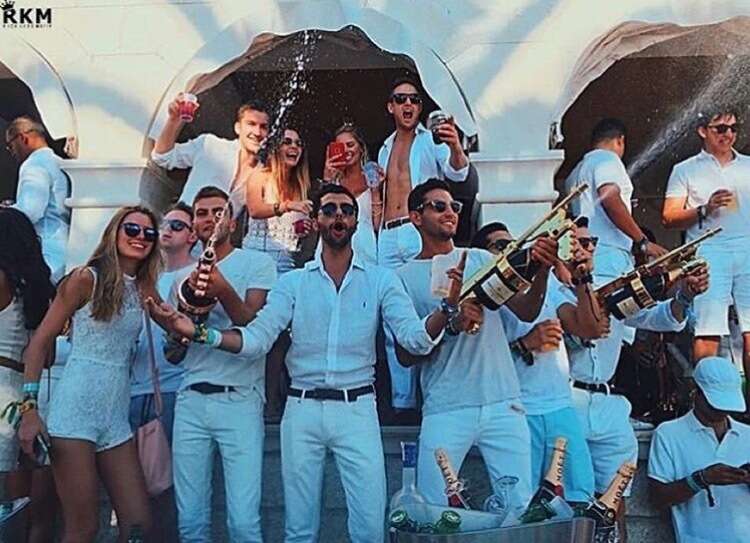 Make It Rain Champagne
This is just the excuse you need to finally order that Champagne Gun you've always wanted. Stock up on magnums of bubbly, pass out red Solo cups and fire away.
Don't Forget the Liquor Luge
Ice sculptures are impressive pieces of art, especially when they're crafted to chill your favorite liquor before it slides seamlessly into your yap. Party guests will appreciate the novel liquor luge because it makes taking shots much more fun and palatable. If you don't have a go-to ice guy (you should definitely get one), you can make your own ice luge at home.
Drinking Games Are King
Spring break parties aren't for pinkies up-style cocktailing and polite chitchat. They are for yelling and chugging and throwing plastic cups on the floor in victory. Prepare an arsenal of supplies for old-school classic drinking games like Flip Cup and Beer Pong, along with new classics like bar Jenga or Roomba Pong.
Encourage Sleepovers
Most spring break getaways involve too many people crowded into one tiny hotel room, so sleeping on floors, balconies and even coffee tables is common practice. We encourage the same behavior as your house party is winding down. Tell guests to bring sleeping bags and crash anywhere they find empty floor space. Strategically place bottles of Gatorade around the house so bleary-eyed friends don't have to go far to quench their thirst.