8 Brilliant Mason Jar Hacks for Your Home Bar
We'll admit it: Hipsters are onto something with the whole Mason jar thing. The jars fit in at any outdoor event and add rustic appeal to any dinner party—plus, they're ultra portable. But the ubiquitous containers can do even more for cocktail lovers. Here, eight ways to outfit your Mason jars for the bar.
Turn It Into a Cocktail Shaker
With a trustworthy screw-top lid, any Mason jar doubles as a cocktail shaker, but this custom cocktail shaker kit ($29) adds a bit of panache to the recycled tool. A taller cap allows room for a built in strainer, a vast improvement over your usual method of just blocking the ice with your hand.
W&P Mason Shaker ($29)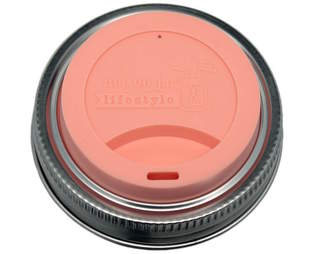 Courtesy of Amazon
Transform It Into a Sippy Cup
This stylish lid ($6) from Mason Jar Lifestyle (no, really) will keep you from spilling your al fresco Mason jar cocktail all over yourself. Resembling a reusable Starbucks cup lid, the slim sippy cup opening and silicon construction will put a stop to errant spillage, and the colorful options will certainly add pop to any drink.
Silicone Drinking Lid ($6)
Courtesy of Amazon
Add a Metal Straw for (Eco-Friendly) Hassle-Free Sipping
These straw-ready lids ($10) come complete with a washable metal straw, so you won't have to worry about destroying the earth with plastic trash. It also won't disintegrate in your drink like a paper straw. It's actually pretty easy being green.
Mason Jar Metal Straw ($10)
Courtesy of Amazon
Set Your Lids Apart
Pack a cooler full of
premixed Mason jar cocktails
for your next outdoor bash, and instantly win the admiration of all your friends—until no one can find their drink among the indistinguishable others. Solution: Top your jars with these color coded lids ($9 for 4) and you won't have any trouble picking your cocktail out of a lineup. No
wine charm
necessary. Plus, the gingham will go great with your summer chic vibes.
Gingham Straw Hole Tumbler Lids ($9 for a four-pack)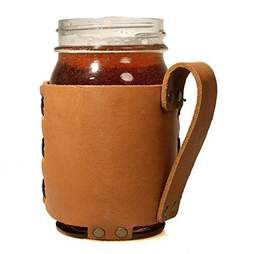 Courtesy of Amazon
Turn Jars Into Mugs
Turn your jar into a mug with the simple addition of this handly leather sleeve ($20), complete with a handle so you won't get third degree burns every time you reach for your
Hot Buttered Rum
. The koozie is even totally customizable, with laser engravings of your initials, custom designs or even some moderately detailed imagery.
Custom Leather Mason Jar Sleeve ($20)
Add Vintage Lighting With Tea Lights
Every DIY speakeasy needs soft-glow lighting to complete the throwback vibe. Suspend a couple of tea lights in Mason jars with these tea light cradles ($6.50), and scatter the jars about your cozy home bar. Then, watch as guests cuddle up close to the lights like moths to a rustic-chic flame.
Firefly Tea Light Candle Holder ($6.50)
Attach a Pour Top for Easy Pouring
Measuring out your
homemade moonshine
or
DIY infusions
from a wide-mouthed jar into a tiny jigger requires highwire precision pouring, but you can skip that hassle by swapping your standard lid out for this spout ($20).
W&P Mason Tap ($20)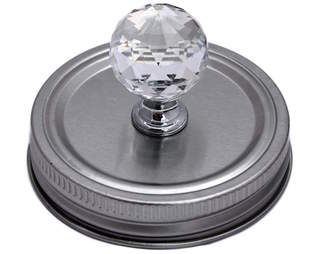 Courtesy of amazon
Make Your Own Fancy, Shmancy Decanter
Decanters
come in all shapes and prices, but for true baller on a budget, look no further than these crystal knob lids ($11). They add a note of high class to your lowbrow Mason jar containers.
Crystal Knob Canister Lids ($11 for two)