Let's be real, your guy does not want a stuffed animal, an elaborate balloon display or a sparkly, decorated framed photo of the two of you for Valentine's Day. Don't worry, we're here to point you in the direction of one of his favorite pastimes: drinking. While you can't go wrong with a nice bottle of scotch or fancy hip flask, you can get a little more creative to show that you care. Here, 10 boozy Valentine's Day gift ideas he'll actually appreciate.
Recommended Video
Thrillist's Best (and the Rest): What You Actually Need to Know About Natural Wine
Whiskey Cologne
Enjoy the warm scent of sweet, woodsy whiskey all day long with a whiskey-inspired cologne. Commodity's Whiskey cologne ($105) is inspired by American bourbon casks and Irish whiskies, with layers of oak, cinnamon and spice, while Odin 09 Posala ($165) incorporates the scents of smoky bourbon, tobacco and amber into a rich aroma.
Bottle Opener Ring
What looks like a simple industrial, masculine ring actually doubles as a bottle opener. With this stainless steel ring ($15), a brewski will always be just a flick of the finger away.
 
Bourbon Barbecue Sauce
For the man who loves to drink and grill, whiskey-infused barbecue sauce is an essential condiment. Instead of the standard grocery-store offering, try making your own or opt for a distillery offering such as this Maker's Mark bourbon-infused barbecue sauce ($10).
Customized Six-Pack of Beer
A six-pack of his favorite beer is a no-brainer gift, but you can easily upgrade it with customized Valentine's Day labels. If you aren't confident in your DIY crafting abilities, download these printable, punny chalkboard-style labels ($4), which feature grownup takes on grade school Valentine's Day messages like "Will You Beer My Valentine?," "Love Is Ale We Need" and "You Make Me Hoppy."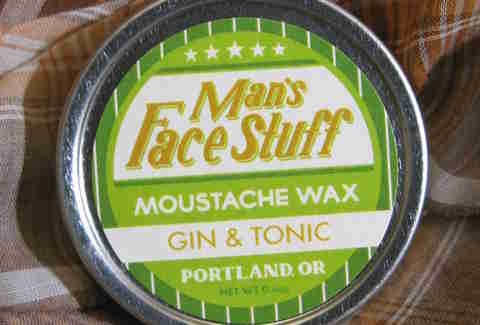 Cocktail Scented Beard Oil and Mustache Wax
If your man is rocking a twirly hipster mustache or a fluffy lumberjack beard, get him these cocktail-inspired facial hair products to keep his face smelling fresh. This Gin and Tonic Moustache Wax from Man's Face Stuff ($10) is made with lime and botanicals like juniper and rosewood to capture the refreshing scent of a G&T. Or keep his beard moisturized with bitters-inspired Barbarossa's Beard Oil ($25).
Drinking Horn
A Viking horn is the most epic drinking vessel, and this novelty version ($26 for a pint-sized horn) will make anyone feel like Thor.
Heart Box of Mini Liquor Bottles
With this super cute but super easy craft, he'll think you're gifting him a cheap, heart-shaped box of chocolates from the dollar store, but he will be pleasantly surprised when he finds an assortment of mini liquor bottles instead—ideally complete with a cheesy, liquor-related pun.
Mini Liquor Bottle Bouquet
This DIY gift puts an intoxicating spin on the traditional Valentine's Day flowers. Create a boozy bouquet by securing mini liquor bottles to skewers and displaying them Edible Arrangement-style—you can even fill out the bouquet with other goodies like chocolate, jerky, cigars or gift cards.
Bar Knife
Every budding mixologist needs a good bar knife—or eight. While any quality blade will do, this wooden-handled, handmade blade from Station Knives in Portland ($275) is especially awesome.