How Liquor Brands Are Using VR to Sell Booze
Pay no attention to that guy wearing goggles, turning his head from side to side, up and down, unaware of his actual surroundings, enveloped by a cloud of smoke—he's just embarking on The Macallan Rare Journey, America's first virtual reality cocktail experience.
At Baptiste & Bottle in the Conrad Chicago hotel, bar patrons are invited to experience a new kind of spirits tasting, one that takes the drinker from the American oak forests where The Macallan sources their lumber, to the north of Spain where the wood is dried, to the Andalusian sherry bodegas where the casks are aged with sherry, and finally all the way to Speyside, Scotland, where the cask is filled with whisky. This whirlwind trip is possible thanks to the magic of virtual reality, or VR, technology.
"It was a brainchild of mine for a little while," says Raquel Raies, national brand ambassador for The Macallan, who collaborated with the bar on the cocktail experience. "My career has been all about bringing this brand to life, and there's a beautiful story that's sometimes hard to convey. I wondered, how can I make that story resonate with people and bring it to life?"
The answer was to combine a VR video produced by the brand with an immersive, tactile experience at the bar (the whole thing costs $95). When guests sit down, they are presented with a wooden box filled with vegetation, empty glasses and decanters shaped like stills. They're handed an acorn, which they drop into the "forest," activating dry ice, as the server details the importance of trees in the whisky-making process. The guest tastes a neat pour of both sherry and The Macallan Rare Cask, while getting a run down on the flavors. Then, he or she straps on VR goggles and begins their journey, while a bartender prepares a simple cocktail made with the two spirits—ready to be consumed when their virtual travels are complete.
"That whole journey is spectacular and unique, and it's what I try to explain in words all the time," Raies says. "Our industry is doing anything we can to bring our brands to life and create experiences, and VR is an effective way of doing that because it's fun. It's a trend we're going to see continue—it's only a matter of time before you see this at bars around the world."
Raies is right; The Macallan isn't the only liquor brand currently dabbling in virtual reality whiskey tastings. Across the pond, Irish brand Walsh Whiskey is spicing up the duty-free store at the Dublin Airport with a summer pop-up experience, featuring a three-minute VR experience that takes users to their 18th-century Royal Oak estate in County Carlow, and shows them the distillation process from milling to the mash room to the still house. Afterwards, users get to enjoy a complimentary tasting of either the Writers' Tears or The Irishman whiskey.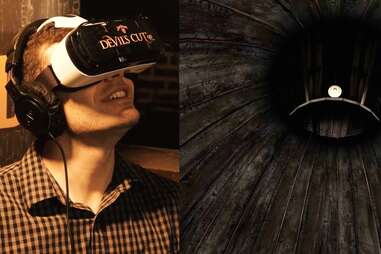 And The Macallan wasn't the first spirit to take advantage of VR technology, either. Alcohol brands have been experimenting with VR technology for longer than you'd expect. In 2015, Jim Beam set up headsets in 250 bars across the U.S. to promote their Devil's Cut bourbon. Instead of taking users through a tour of the distillery, Jim Beam put them inside the barrel itself in a 3D roller coaster ride, swirling customers through the aging process before hurling them out of the barrel. Actually, it was more like 4D: Jim Beam reps wafted a paper soaked in bourbon under participants' noses to enhance the effect.
In 2014, UK-based Fire Eater liqueur transported users to an immersive circus in which they virtually climbed up a high-dive platform and dove head first through three rings of fire into a pool, while Dos Equis had participants strap on an Oculus Rift headset to enjoy a three-minute party scene with the brand's legendary Most Interesting Man in the World. Sales of Dos Equis increased by 18 percent during the VR campaign, according to AdWeek.
But one of the most successful, lasting VR endeavors comes from Patrón, who launched their 360-degree "The Art of Patrón Virtual Reality Experience" in 2015, and who continue to showcase the experience at marketing events today. The experience gives users a "bee's eye view" of the Hacienda Patrón in Jalisco, Mexico.
"Seeing how handcrafted the Patrón tequila-making process still is, it's the greatest marketing asset we have—it's also the least scalable," says Adrian Parker, vice president of marketing at Patrón. "Since we can't bring millions of consumers to our working distillery in Mexico, VR created an opportunity for us to bring Mexico to them."
The VR experience was a hefty investment on Patrón's part. To create it, they hired an airline pilot to fly a drone outfitted with six GoPros through the Hacienda. Live action scenes were combined with computer animation, and, in total, the project took eight months and an onsite-crew of nearly 100 people to complete. Then, the company had to secure over 200 Samsung Gear VR goggles and 30,000 Google Cardboard kits to use at events around the world. But because the experience is also available online, Parker says that hundreds of thousands of consumers have been able to fly throughout the Hacienda—making VR a worthy investment in their eyes.
"Innovation in the spirits category has historically been limited to the liquid, the bottle or the message, never the medium. But as those elements become more commoditized—or copied—the brand experience has become the last battlefield of real differentiation," Parker says. "VR has become a powerful persuasion tool."
Both Parker and Raies agree that the technology's most enthusiastic adopters are millennials, or, as Raies calls them, the "hashtag generation."
"They're always looking for a new experience to share," Raies says. "Millennials normally wouldn't go for a higher-end pour, but our experience gets them to taste it, and they're always blown away and they're like, 'Wow, I love this!' It's attracting a new kind of curious consumer who may not spend money on something they aren't familiar with, unless there's an experience to draw them in."
As exciting and seemingly effective as the technology is, VR has a few hurdles to overcome before it enters the mainstream and makes its way into everyday drinking in bars. First, the cost: The best VR technology comes at an extremely high price-point (Oculus and HTC Vive cost well over $500 for each kit). And lower-priced platforms just haven't wowed consumers in the same way. TechCrunch predicted that 2016 would yield $3.8 billion in revenue in VR, but the actual figures were closer to $2.7 billion. Worse yet, one of the most promising adopters of the technology, Samsung Galaxy Note 7 phones, literally went up in flames last year. When compared to the unexpected success of Augmented Reality (AR) with last year's Pokémon Go phenomenon, experts are wondering if VR is a passing fad, with many analysts scaling back their forecasts for the industry as a whole.
Another issue spirits brands in particular may have to consider is the risk of combining a digital, sensory experience with a few too many drinks. A common user complaint about VR is motion sickness-induced nausea, which, in combination with alcohol, could prove to be a problematic situation if not managed properly.
Not to mention, many consumers on a night out might not enjoy strapping bulky technology onto their heads and looking like a weirdo in front of their friends and a crowd of strangers. But for now, Raies says, the novelty and good-humored nature of wearing the goggles isn't dissuading customers at the Conrad from participating. In fact, the Instagram and Snapchat potential for showing off the silly-looking gear may be working in its favor.
Whether or not VR has staying power remains to be seen, but the potential to be transported away from our desk jobs and into the inviting world of booze—from tropical rum producers to the pastoral Bourbon Trail to remote Japanese mountain distilleries—is undeniably exciting. Just as long as we're always given a real-life, drinkable glass of booze at the end of these futuristic journeys, we're in for the ride.