Candy? Good. Alcohol? Great. Alcoholic candy? Now you're talking. It's really easy to infuse gummy candy with booze. But rather than simply dumping Everclear into a bowl of whatever Haribo gummies you have on hand, put some thought into spiking your favorite chewy treats. Here, the best booze and gummy candy pairings to put to the test. And for the best method on how to spike your candies, please refer to these easy-to-follow instructions.
Gummy Bears + Vodka
If it ain't broke, don't fix it. The classic combo of fruity gummy bears and neutral vodka is a tried and true favorite, and we have no business messing with it.
Gummy Worms + Tequila
A nod to the classic worm-in-the-bottle gimmick, this pairing infuses long, wiggly gummy worms with bright, grassy tequila. Opt for a blanco for a crisp, citrusy flavor or play up the candy's sweetness with a reposado.
Swedish Fish + Campari
Add some bittersweet tang to the fruity fish by giving them a brief soak in Campari. The resulting gummy is a sophisticated meeting of Sweden and Italy, perfect for aperitivo hour.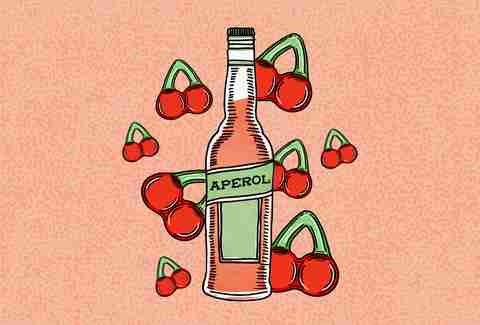 Cherries + Aperol
Give gummy cherries a bright, orange-tinged edge with vibrant Aperol. Like Campari, this Italian aperitif adds a low proof kick to candies, so you can snack on a handful without knocking yourself out.
Peach Rings + Bourbon
Peaches and bourbon are a natural fit—so much so that the mellow, brown-sugary whiskey even works well with artificial peach flavor.
Happy Cola + Dark Rum
This duo is a no-brainer. Hairbo's Happy Cola bottles are, of course, best spiked with rum—specifically dark rum because its molasses flavor seamlessly melts into the sweet, chewy candy.
Sour Patch Kids + Rye Whiskey
Spicy rye whiskey meets face-puckering Sour Patch Kids for an edible take on a Whiskey Sour. These boozed-up gummies pack a serious punch, so snack with caution.