Drink Like a Bartender: William Cutting's New Orleans & Los Angeles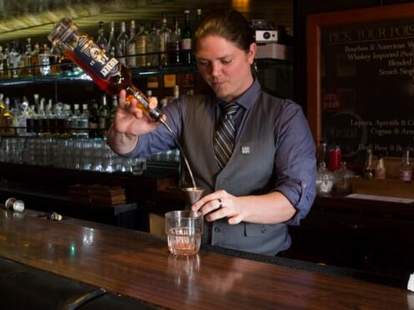 Bartenders don't just know how to make great drinks. They're also experts in imbibing. So, in order to follow in their footsteps (and barstools), we're asking bartenders across the country to let us in on a typical "weekend" (bartenders rarely get traditional weekends off) of drinking.
William Cutting, beverage director of The Friend, creates some seriously whimsical cocktails at the pink-floored Los Angeles hot spot, like the recent Shark Week special, Shark Bait (a bright blue cocktail garnished with a lemon rind cut into a shark). But he's not above serving a simple shot and beer—on the menu, The Lover consists solely of a shot of bourbon and a PBR tallboy. Cutting's own recreational drinking reflects that cocktail-meets-cheap-beer ethos. Here, he recounts both a typical L.A. "weekend" night, as well as an action-packed day of drinking at the recent Tales of the Cocktail in New Orleans. Recreate his itinerary at your own risk.
An L.A. Night Out With William Cutting
The Friend 
"My weekend starts on Monday, working a day shift at The Friend. Since I'm already at my bar, it's my first and favorite place to belly up to. When it comes to myself, I'm a very lazy bartender, so when I get to have other people make my own cocktails, I'm so happy! I start with two there before meeting up with some friends."
Sassafras Saloon
"We head over to Sassafras to see my good friend BC and have him make me a barrel-aged Vieux Carre. Easily the best in town."
Break Room 86
"Then we'll head over to Koreatown to see Avery at Break Room 86 for some rad '80s vibes, great drinks, and a splash of karaoke."
The Normandie Club
"From there we walk down to Normandie Club. On most chill nights in L.A., you will find most of the town's biggest and baddest bartenders squirreled away here sipping Daiquiris and enjoying being on the other side of the bar."
Jumbo's Clown Room
"To round it out and up, we all cab it over to Jumbo's Clown Room for Jamies on the rocks and some entertainment…I'll leave it at that."
Harvard & Stone
"Just before last call, we stagger down to Harvard & Stone and the crazy talented crew there, grab a couple last call shots at the bar, then nestle into the R&D room for a lovely rotating nightcap. Everything is pretty fuzzy at this point, but I'm fortunate enough to be staggering distance from home. That's a very typical Monday night for us. My Tuesday is usually followed up with a six pack of Pedialyte and Netflix."
A Day of Drinking in NOLA With William Cutting
Ace Hotel
"All official Tales events were over, but that didn't slow anyone down. I met with my L.A./Vegas crew for Absolut Bloody Marys over at the Ace hotel."
Bacchanal
"From there, we went to Bacchanal for giant bottles of rosé and charcuterie plates. We stayed there for hours just sitting on that back patio listening to folk music and re-toxing."
Coop's Place
"Then, we left for Coop's, and I stopped off for a tattoo in between. When we got there, it was all Abita Amber and vodka shots."
Bacchanal...Again
"Then back to Bacchanal for more rosé."
DBA
"Eventually we made it over to DBA for their anniversary party, and two or three Plymouth Gin & Tonics."
Cooter Brown's
"The next stop was Cooter Brown's for poutine and more Abita amber."
The Dungeon
"The final stop for the night was The Dungeon where we had a lot of Altos tequila shots there before taking a cab to the airport."
Louis Armstrong New Orleans International Airport
"We couldn't not drink there, so we had one last Plymouth Martini before taking off. Truthfully, that was the most relaxing day of the week. But that's how Tales goes. I've been back for nearly a week and still drinking Pedialyte."