Skip the Bloody Mary, Micheladas Are Way Better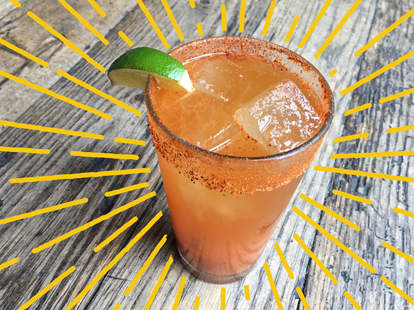 Photo Courtesy of The Bonnie / Illo by Mark Yocca
It's time for the Bloody Mary to give up its crown. The spicy, savory cocktail has long ruled over all other brunch drinks as the king, but now it's time for a new monarch—it's time for the Michelada.
Made with beer, a salted rim and an amalgamous mix of juices, spices and hot sauce, the beer-tail, which only recently started transitioning from Mexican restaurant to cocktail bars, is slowly but surely gaining popularity amongst the boozy brunch scene, albeit deep in the shadow of its bigger, bolder, vodka-spiked brother. To help convince the Bloody Mary worshipping masses of the Michelada's prowess, we tapped general manager Mike Di Tota and bartender Zig Payton of NYC's The Bonnie (which offers one of the city's finest examples of Michelada mastery—pictured, above) to explain exactly why the Michelada is the greatest.
The Michelada Has Serious History
The Bloody Mary has its cute, little origin story, but the Michelada has real roots. "The thing that I love about the Michelada is that everybody's got their own way of making it. Every region, every city in Mexico has a different way of making this amazing, easy-drinking, spicy, savory cocktail," Di Tota says. "It really does have true, true history that we as Americans don't really, really understand. It is deep, deep, deep in family traditions and family gatherings and celebrations. These recipes have been around for ages." For The Bonnie's Michelada, Di Tota turned to one of his barbacks for help. "I didn't just want to do hot sauce and salt, I wanted to dive deep into what the Michelada was to some of our back of the house guys who came from Mexico. I didn't put it together by myself," he says. "I went to my main barback Arturo and said, 'Tell me about your Michelada, tell me about the Michelada that you drank with your family and your friends back in Mexico.'" Arturo's recipe includes unexpected ingredients like cucumber and celery and a touch of
turbinado syrup
. "I tasted it and was like, this is frickin' amazing," Di Tota says. "When you have a Michelada, you grab a little culture. And life is about experiencing other cultures and other people."
The Michelada Is a Blank Canvas
There's no one way to
make a Michelada
. Some take a minimalist approach, adding just a few dashes of hot sauce and lime to a salt-rimmed beer, others repurpose Bloody Mary Mix and an even more select few, like The Bonnie, create bespoke mixes specifically meant to be topped with beer. These mixes can be spicy, fruity, salty—anything really as long as the drink as a whole hits those precious umami notes. And the beer isn't standardized either. While The Bonnie opts for a Modelo Especial, we've seen them made with darker cervezas like Bohemia or Negra Modelo. Even the salted rim isn't set in stone. "Some people put Tajín on the rim, some put salt," Payton says. "I do a mix of both." Payton also adds ice—another component that's up for debate. By accepting the Michelada into your regular brunch rotation, you are opening yourself up to a whole world of spritzy, savory drinks. If you stick with the Bloody Mary, all you'll get is the occasional
Bloody Maria
, or the even more occasional
whole roast chicken-topped cocktail
.
The Michelada Puts You in Charge
More often than not, a Michelada comes with a can of beer. Sometimes it'll be a full can (in which case your glass probably contains the mix, ice and nothing else), but most of the time it will be the semi-empty can the bartender used to make the drink. Either way, the presentation leaves you, the drinker, in charge of exactly how much beer you want in your Michelada at all times. "You can keep adding to it, to make it last longer and dilute the strong flavors," says Payton. Or you can sip it on the side, or just dump it in at the very end. "It's part of the fun of the drink," he says. Sorry, no extra vodka with that Bloody.
The Michelada Is Refreshing
"Not a lot of people would say they wanted a Bloody Mary because it's thirst-quenching," Payton says. "But on a hot summer day, a Michelada can't be beat. You still get that savory zing like you do with a Bloody Mary, but it's not so heavy and savory. It's something that tastes great underneath the sun."
You Can Drink a Lot of Micheladas
The base of any Michelada is always beer, which makes for a crisp, low ABV drink that won't knock you out before noon. "It's not going to put you back on your butt," Di Tota says. "It's going to bring you back up." A well-made Michelada is also a perfect balance of flavors, hovering between salty, savory, spicy and sweet—a symphony of umami that keeps you coming back for more. "A good Michelada has to be cohesive," Di Tota says. "I don't want to be blown out by spice. I want to be able to have four or five of them." When was the last time you downed five Bloody Marys and lived to see 4 p.m.?
And You'll Actually Want to Drink a Lot of Micheladas
Not only is it possible to drink more than one Michelada in one sitting, it's also something you'll want to do. "If you were drinking really sugary cocktails or were at a tiki night, a Michelada the next morning offers something different," Di Tota says. "If I went to brunch the morning after drinking at a tiki bar and someone offered me a
Mai Tai
I'd be like, nah dude." But a Michelada? He'll take five.
The Michelada Will Get in Your Head
Payton, who is now a serious Michelada devotee, had his first fizzy glassful a few years ago. "I used to go to a lot of concerts with the drummer in my band, who is half Mexican," he says. "One time, we went to this taco place in Brooklyn and ordered Micheladas. I had two or three and was like, 'This has to be a thing we do now.' Over the course of the next five or six years, whenever we went to a concert, we'd always find the nearest place that offered Micheladas." If you have a good Michelada (that's the important bit—finding that first really good one), you won't soon forget it. "If I make a Michelada at the bar, if I even get a whiff of one, I'm like oh, I know what I'm having at the end of my shift," Payton says. "It's a drink that gets in your head, one you think about for a good amount of time before you order it, like, 'Oh yeah, I'm right in the mood to crush a Michelada.'"