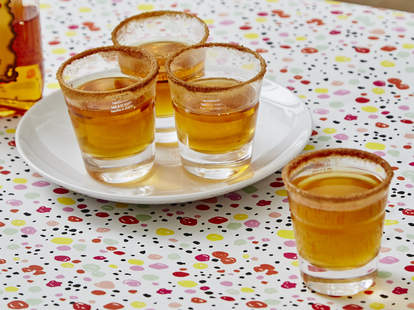 What to Drink, Based on Your Favorite Thanksgiving Food
Thanksgiving brings together personalities from all over your family and all over the country, uniting a diverse crowd around a single table. Each guest is bound to have their favorite dish, but they may not know there's a perfect cocktail to go with that food, too. For every Thanksgiving food, there's a boozy pairing. Eat and drink them together, or simply sip these concoctions if you get a hankering when the leftovers are gone.
Matthew Kelly / Supercall
The bird is unquestionably the main event of the Thanksgiving dinner table, but no one is crazy enough to translate that meaty main course into a headliner on the bar—no one but us. This silky, savory cocktail is built on gravy-washed vodka and homemade turkey stock, with enough spices and citrus to help the hearty cocktail go down easy. True turkey fanatics who wait 364 days for the glorious bird will love this cocktail. Gobble, gobble.
Matthew Kelly / Supercall
Drink like our founding fathers in this most patriotic of cran-tails. Based on the 19th century classic Sherry Cobbler, this autumnal Highball combines fresh muddled cranberries with raisin-y sherry and dry vodka for a drink that emulates all the wonderful flavors of your fave side while remaining dry enough to pair with the cranberry sauce itself. Set yourself down in front of a big bowl of sauce, muddle up this cocktail and ignore the inquisitive looks of concerned relatives. You're doing Thanksgiving right.
Matthew Kelly / Supercall
No cocktail will ever match the spongy feast that is a single serving of stuffing, so the best you can hope for is a cocktail to pair alongside. The Bullshot shares some elements with the dish—unctuous broth, vegetal celery, savory spices and bright citrus—which will trigger that space in your brain that's completely dedicated to Thanksgiving.
PATRICK SPEARS / SUPERCALL
Warm buttery mashed potatoes are the apex of creamy comfort in the Thanksgiving spread, and Hot Buttered Rum is the same on the cocktail bar. Batch an excessive amount of both ahead of the big day, because after you get to alternating sips of warm, rummy goodness and bites of thick, Thanksgiving feels, you'll never want to stand up again to make more.
MATTHEW KELLY / SUPERCALL
Green Beans / Brussels Sprouts / Any Other Boring Vegetable: Peas and Cues
We begrudgingly allow vegetables near our holiday table to humor that one cousin who seems to go on a health kick every year the exact week of Thanksgiving (I don't get you, Megan), but we happily accept vegetable matter in cocktail-form. This spring pea-infused pisco cocktail will please even those meat-headed gluttons who think fiber is for quitters. With a bit of lemon juice and simple syrup for balance, it's a grassy aperitif perfect for biding your time between bites of the good stuff.
MATTHEW KELLY / SUPERCALL
Corn on the Cob / Creamed Corn / Cornbread: Coco Punch
Rather than hit you over the head with corny flavor (or corny jokes, like your least favorite uncle), this corn silk-infused tiki drink plays up the vegetable's mellow wheaty flavor, combining it with caramelly aged rum and the subtle fruity sweetness of banana liqueur. The result is like your favorite cornbread, with the perfect balance of sweetness and edge to beat out every other carb in your heart.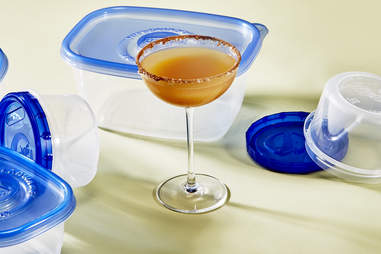 MATTHEW KELLY / SUPERCALL
Sweet Potatoes / Yams: NTL Yam
Maple syrup and baking spices help turn this ruddy tuber into a dessert-like, marshmallow-topped side dish (and a good excuse to have dessert during dinner), and the same principle works for this sweet cocktail. Sweet potato purée combines with silky bourbon, maple syrup and lemon juice in this lightly creamy stirred drink. With a simple spiced rim and understated orange appearance, the cocktail almost passes for something less indulgent.
MATTHEW KELLY / SUPERCALL
The best pumpkin pie is a study in texture—creamy enough to fill you with Thanksgiving warmth, light enough that it won't ooze all over your nice china. This autumnal cocktail walks the same high wire, using a pumpkin cordial to add squashy spice, balanced with egg white and peppery rye. A bar spoon of Benedictine gives the drink that extra punch, like the secret to your aunt Jenna's famous pumpkin pie.
MATTHEW KELLY / SUPERCALL
The best Thanksgiving spread ends with a dessert spread as voluminous as dinner, with pies for every type of sweet tooth. With all those carbohydrates flying at your digestive system, it's best to get your fill of apple-y treats down quick. This shot of Fireball, apple cider and butterscotch schnapps tastes just like its namesake dessert, only with the added benefit of booze (and our favorite name brand cinnamon whisky).
MATTHEW KELLY / SUPERCALL
Paula Deen loves her a good Southern-tinged Thanksgiving dinner, so it makes sense that a drink named for the TV cooking hostess includes some down-home country flavors. In this spiked coffee concoction, a custom pecan milk recipe gives the drink that homemade spark and satisfies like the best boozy pecan pie, while cherry-washed bourbon, sorghum syrup and a topping of chantilly cream make for a decadent way to finish your meal. Hopefully that coffee will counteract the post-feast slump, reviving you just enough to go in for round two.