the bar.com
Sponsored By

12 Days of Whiskey Gift Guide
Sponsored By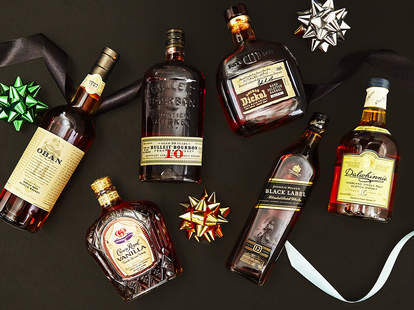 Near the top of the long list of great things about whiskey is the way it brings together people of many ages, all shapes and sizes, and from every walk of life. Whiskey fans range from the young to the experienced, from men to women, and lifelong devotees to newbies. They all have one beautiful thing in common—a shared love for the amber deliciousness of usquebaugh, the water of life, brown gold. And that's a thing to be celebrated, especially during this time of year.  
There are enough amazing whiskey-related gifts out there to fill a 365-day gift guide, but we've narrowed it down to 12, as befits the season. But there's definitely something here for the whiskey lover on your list, from neophyte to expert.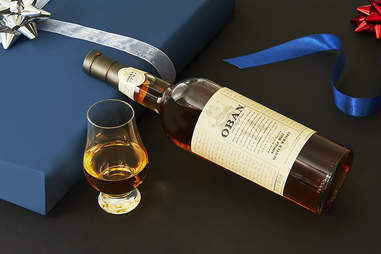 Matthew Zach/Supercall
Whiskey is a complex spirit, and there's a lot to pay attention to when tasting it. One major factor, of course, is its aroma, a close cousin to taste. This is one of the first elements whiskey aficionados pay attention to. The Glencairn glass is shaped like a tulip (wide at the bottom and narrow at top), allowing the drinker to "nose" the whiskey every time they lift the glass, because the aroma is funneled to the top. Add a dram of Oban 14 Years Old, and properly savor the Highland single malt's nose—full of deep, fruity sweetness, balanced by peaty maritime notes—before enjoying its subtly complex palate.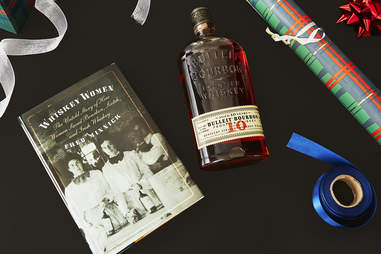 Matthew Zach/Supercall
The Untold Story of How Women Saved Bourbon, Scotch, and Irish Whiskey 
Every whiskey connoisseur is thirsty for knowledge about their favorite spirit, especially of the overlooked, little-known variety. Fred Minnick's amazing, well-told tale about the unsung role of women in world whiskey production hits a bullseye for the whiskey buff in your life. Pair this portrait of women on the frontier of their field with Bulleit 10-Year Bourbon, the frontier whiskey.
Matthew Zach/Supercall
Whisky stones don't look great (in our opinion), and can be irritating to clean. Standard ice cubes melt fast and end up diluting your drink. So what's the person who wants their whiskey cool but not watered down to do? Two words: ice spheres. Made from easy-to-use freezable molds, these globes of ice look great and help chill your whisky without stepping on its flavor profile. Which, in the case of Johnnie Walker Black Label, is a silky balance of peaty and sweet with accents of toffee and dried fruit. A world-famous scotch for a reason.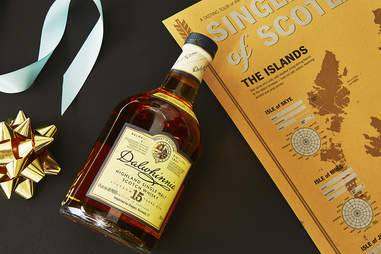 Matthew Zach/Supercall
Most hardcore whisky nerds can tell you where all of Scotland's whisky-producing regions are located and what flavors are characteristic of which areas. The whisky lovers that can't are most likely newcomers to the category. This handsome and practical flavor map will help guide them on their path to expert status, and Dalhwinnie 15 Years Old is an ideal introduction to single malts. Described as "the gentle spirit," Dalwhinnie is smooth and rich-tasting, with floral notes complemented by soft spice and honey.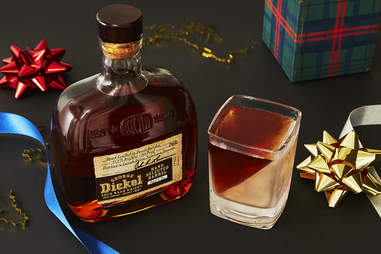 Matthew Zach/Supercall
There are loads of great-looking ice cubes out there, and then there's the Whiskey Wedge, a next-level, super-slick way to chill your dram without diluting it. The artful diagonal section of ice (produced via an ingenious, angled mold) keeps a wide surface area on your whiskey, and it won't melt as easily as standard ice. Pair it with the stellar Tennessee Whisky George Dickel Barrel Select, a small-batch gem aged between 10 and 12 years and featuring a smooth, deep flavor profile with accents of caramel, spice, and charcoal.
Matthew Zach/Supercall
As mentioned, not every whisky lover is a seasoned expert. In fact, some people are whisky lovers but they don't even know it yet. They have a whisky fan inside of them just waiting for the right spirit to coax it out. That's where Crown Royal Vanilla comes in. Infused with Madagascar Bourbon Vanilla, the deliciously smooth Crown Royal Vanilla has been attracting new drinkers to whisky for years. Gift it to someone on your list this year, and maybe you'll bring a new member on to Team Usquebaugh. Tasty on its own, it also makes a perfect base for dessert cocktails to relax with by candlelight after a satisfying meal. What better candles for such an occasion than these lightly scented ones from Manready Mercantile? Once these clean-burning soy candles are done, they leave behind a fully functional whiskey glass (some cleaning may be required).
Please Drink Responsibly. © 2017 Diageo, Norwalk, CT