5 Great Gifts for the Whiskey Snob in Your Life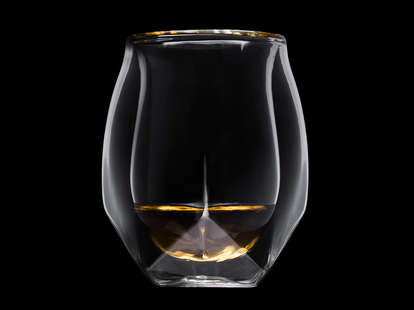 We all have that friend: the whiskey snob. The friend who drones on and on about that one time they scored a glass of Pappy Van Winkle 23 Year Old, or rolls their eyes when you try to include them in a round of Fireball shots at the bar. While those high-falutin tastes might make a simple visit to the bar difficult, finding that pal an impressive holiday gift is easy—you just need to know where to look. From fancy glassware to the perfect on-the-go receptacle for an upscale dram, here are five gifts that will impress even the most ardent whiskey snob in your life.
When it comes to enjoying a measure of whiskey, the glass is almost as important as the whiskey itself—and the Norlan glass is one of the best. Not only does its tulip shape aerate the whiskey to perfection and keep the more delicate and desirable aromas from escaping, but its seamless, double layer of glass also prevents your hand from warming the liquid. The Norlan is available in the original crystal clear glass, but if you're buying for a whiskey lover who also appreciates sleek design, you can pre-order the company's latest offering: a pair of glasses with an eye-catching, matte black coating.
Whisky Water ($5 to $42)
Adding a touch of water to whiskey opens up the spirit's flavors and nuances, but a whiskey connoisseur shouldn't be using just any old water. Whether you're buying for someone who prefers scotch or bourbon, you can purchase a water that's tailor made—well, sourced—for that whiskey. Uisge Source sells bottles of water from the Islay, Highland and Speyside regions of Scotland, which the company says will help "retain the whisky's true and original character." The bottles come individually or as part of a whisky pairing set.
If bourbon is the recipient's whiskey of choice, however, gift a bottle of Old Limestone mixing water, otherwise known as branch water. Filtered through limestone, this water is sourced and bottled in Wilmore, Kentucky, and is even used by some distillers in the bourbon making process.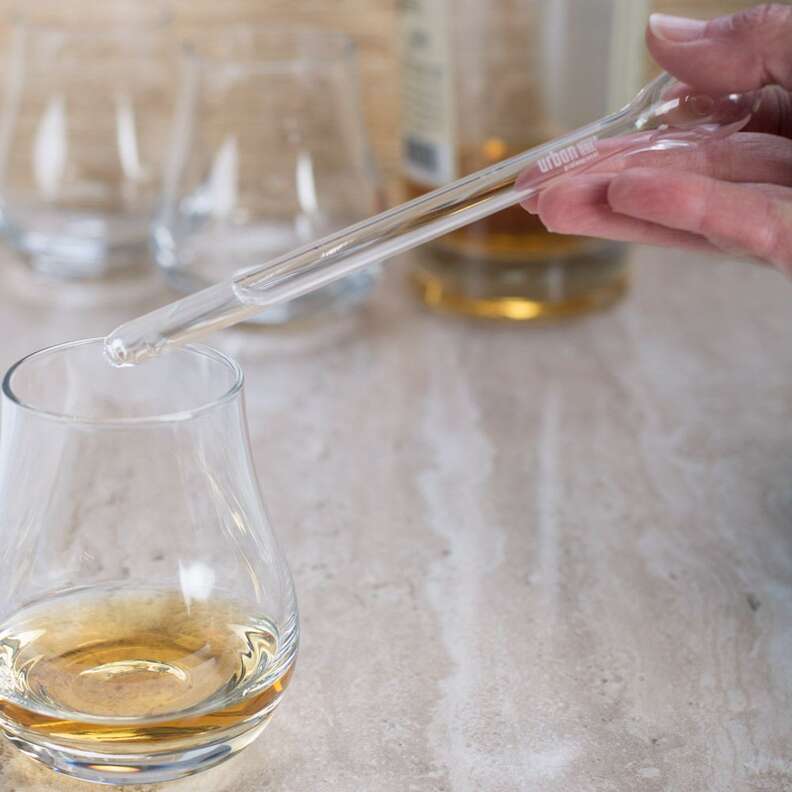 Gone are the days of using a regular old rubber-topped dropper to dilute your liquid gold to perfection. Now, enthusiasts can use this pipette (officially called the Urban Bar Whiskey-Diluting Glass Water Dropper), to open up the flavors in their favorite dram. Made entirely of glass, this pipette features a tiny hole at the top to help ensure control and make the dilution process as precise as possible.
Bar Cart ($70+)
What's the good of being a whiskey snob if you can't display your fancy whiskies for all to see? Instead of keeping that bottle of Old Forester Birthday Bourbon stashed away in a cupboard, make sure the whiskey lover in your life is showcasing their most prized possessions on a bar cart worthy of its cargo. A polished, modern bar cart will serve as a showstopper in any room, but for something more understated, go for the no-nonsense Ermont Bar Cart from Laurel Foundry Modern Farmhouse. It has wooden shelves that provide just enough room for bottles and glassware—and more bottles.
Stylish, Reliable Flask ($25 to $95)
While you could pull a Ron Swanson and take a bottle of your favorite scotch with you to events, a flask is the more socially acceptable—and stylish—way to transport your precious liquid goods anywhere and everywhere. You could go the trendy route and gift this ovular gold hip flask from Odeme, but if you're gifting a whiskey snob who's more of the outdoorsy type, this Stanley flask, made for hiking and camping trips, will fit the bill. Of course, if you're looking for something with more of a timeless look, this handsome leather-clad stainless steel flask from Bosca will make any whiskey snob happy.