8 Best Gifts to Buy for Your Whiskey-Loving Lady
Your girlfriend/wife/mother/sister/friend—you get the idea—isn't the type of woman who can be placated by a bunch of flowers and whatever designer handbag is on trend right now; she needs whiskey, whether it comes in a cocktail like an Old Fashioned, served neat in a glass or straight out of the bottle. Aside from the very obvious gift to get her (a bottle of the good stuff, duh), here are eight awesome, creative presents to give your whiskey loving lady.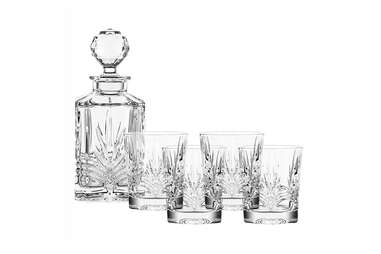 Whiskey tastes delicious in just about any vessel, but there's something special about drinking it from glassware that was designed specifically for the golden dram. This gorgeous set of crystal rocks glasses from Belleek would class up any bar cart, especially with the matching crystal decanter. Sure, decanters are largely useless when it comes to whiskey, but they sure do look beautiful.
If your lady has a sweet tooth, don't just settle for ordinary chocolates. Gift her these artisan marshmallows, infused with real bourbon and hand-molded into delectable little puffs. Wondermade uses Maker's Mark bourbon, so you'll taste a sweet, full-bodied bourbon flavor with a warm vanilla finish.
Give her the opportunity to enjoy the warm, spicy aroma of a bottle of bourbon no matter what time of day it is by gifting her this three-wick scented candle. With notes of vanilla, caramel and charred oak, it will turn her room into the inside of a whiskey barrel.
This rustic-chic piece of jewelry is perfect for the woman who thinks whiskey, not diamonds, are a girl's best friend. Designed by Jangula Woodworks on Etsy, this ring is made from the same charred white oak barrels that are used to make bourbon in Kentucky.
Another piece of understated whiskey-inspired jewelry, this minimalist necklace depicts the molecule found in the chemical makeup of whiskey. The Etsy shop Molecule Necklace (which, as you can imagine, makes scientific jewelry for a wide range of vices) sells the necklace in oxidized silver, gold and sterling silver hues.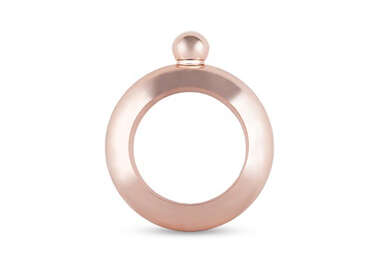 Sure, wearing a piece of whiskey-inspired jewelry is lovely, but it's even better if you can wear the actual booze. This rose gold bracelet flask allows the wearer to carry four ounces of liquid for stylish, clandestine imbibing on the go. Since it only holds about two shots, make sure the whiskey inside is a strong one.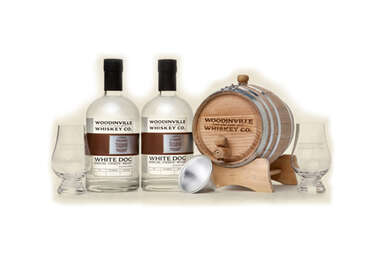 Women tend to be blessed with an exceptional amount of patience, which means they'll be willing to take the time to age their whiskey to their liking. This kit from Woodinville Whiskey Co. includes two bottles of unaged whiskey, a small barrel that accelerates the aging process, and two Glencairn glasses for sampling.
Give the gift that keeps on giving in the form of countless Instagram likes with this whimsical coffee mug from Little Spark Art on Etsy. It's perfect for snapping sarcastic (or truthful, we don't judge) pictures on Monday mornings.