Why Does Your Gin and Tonic Cost So Much?
Whether your drink sets you back $6 or $16, there's more to the cost of a cocktail than what's in the glass. We asked a range of bars, from a chill Irish pub to an upscale gin-focused hotel boîte, to explain what factors—rent, uniforms, bar supplies—affect the cost of their drinks. We deliberately selected a simple, widely-available cocktail—the classic Gin and Tonic—and focused on venues in a single New York City borough (Manhattan) to keep comparisons as level as possible. Here's what we found.
Ingredients: Well gin, tonic water from a gun, lime wedge garnish (the price can go up to $14 depending on the brand of gin called)
Made with a default "Irish gin" and garnished with a utilitarian lime wedge, the cost of a Gin and Tonic at this cozy bar is defrayed by beer and liquor sponsors. Glassware doesn't factor into the price, as branded Guinness glasses are often given to the bar for free. The same goes for the branded coasters, bar mats, and other supplies.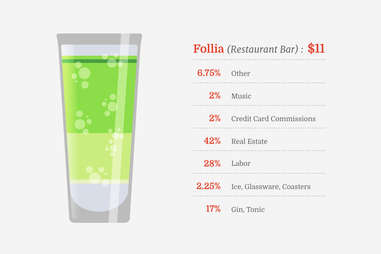 Ingredients: Tanqueray Gin, tonic from a gun, lime wedge garnish (the price can go up to $12 for premium brands like Bombay Sapphire)
Follia is an independent, neighborhood Italian restaurant with a brisk business at the bar. "The bar is how we pay the rent," says partner Mario Riva. "I use the Gin and Tonic to subsidize the restaurant."
Labor is a bit higher than most cocktail-only bars because it also includes kitchen staff. One surprising cost: licensing fees to ASCAP and other music royalty companies to play music in the restaurant.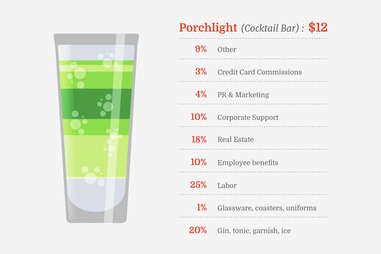 Ingredients: Ford's Gin, bottled tonic, lime wheel garnish
The only standalone cocktail bar in the Danny Meyer restaurant empire, Union Square Hospitality Group's Porchlight is a unicorn in that it provides benefits to their employees, including bartenders. So that 401k match factors into the drink price.
"We're investing in our employees, but that costs money," says Porchlight co-founder Mark Maynard-Parisi. "It has to come from somewhere."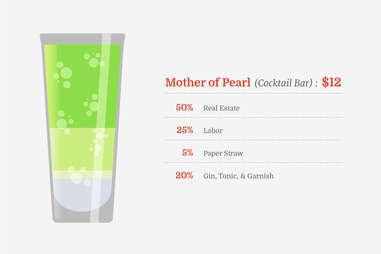 Ingredients: Citadelle Gin, Q Tonic, manicured lime garnish
This elaborate G&T at this Polynesian-inspired bar is made with premium brands (including a fresh bottle of Q Tonic for each drink), chilled with Kold-Draft ice cubes ("the machine always needs servicing") and garnished with a "manicured lime," according to head bartender Jane Danger. Other expenses include coasters, colorful paper straws imported from China and specialty glassware (a cheery pink Collins glass). Labor costs include a prep person responsible for checking inventory, making flavored syrups and other key tasks.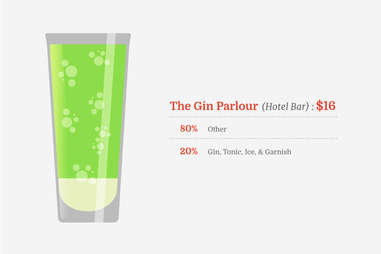 Ingredients: Ford's Gin, house cold-brewed tonic water, "seasonal accompaniments" (red and green grapes, blood orange and rosemary stem to garnish)
Beverage director Orion Berge declined to provide a breakdown of the remaining 80 percent of this drink's cost, but noted that labor costs contribute to the price, as do costs associated with utilities and "dry goods such as napkins and branded cocktail stirrers." Manhattan real estate costs, of course, factor in as well, and although Berge didn't mention it, most hotels also work with various union groups, and fees associated with that can also amp up prices at hotel bars. Atmosphere is also part of the experience at this particular hotel: The Barclay's "signature scent" is disseminated throughout the lobby, Berge notes, so you're literally drinking that in when you order a G&T.