Stranafans: The Cult of Stranahan's Snowflake Whiskey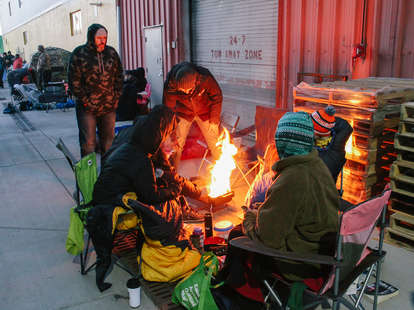 It's 19 degrees Fahrenheit at 5 a.m.—a far cry from the sub-zero temperatures of releases past, but still cold enough to chill the hot coffee in our metal mugs in a matter of minutes. I'm one of several hundred people waiting in line outside of Stranahan's distillery in Denver, Colorado for a chance to buy two bottles of Snowflake, a limited release whiskey blended specially by Stranahan's Master Distiller Rob Dietrich.
The line starts on one side of the distillery, curves around the building, down an alley, and continues down the rest of the block. Some people are in tents, some are cocooned in sleeping bags with only their noses visible, and some are simply standing in a perpetual crunch, huddled together for warmth. All to buy two bottles of whiskey.
But this is not just any whiskey. This is whiskey with a cult following. This is the nineteenth Snowflake release. Following in Strahan's tradition of naming whiskeys for Rocky Mountain summits, the 2016 Snowflake is called Crestone Peak. It's a blend of seven different barrels in honor of Colorado's seventh highest crest. One of the barrels included was an ex-Spanish Syrah Amador wine cask—an homage to the town of Crestone, which was originally part of a land grant the King of Spain gifted to Luis Maria Baca, one of the original settlers of what would become the American Southwest, in the 1600s. The other barrels used in this year's batch include an ex-Madeira cask, an ex-old vine Zinfandel cask, an ex-Saint Croix rum cask, two four-year-old Stranahan's whiskey casks, and a five-year-old Stranahan's whiskey cask.
On the nose, this year's Snowflake has notes of vanilla and dried cherries, sweet marzipan and woodiness. On the palate, it's fruit-forward with a honeyed sweetness, followed by cinnamon spice, nuttiness and wood before finishing with a spicy cinnamon-citrus warmth. There's a reason people line up for every release.
The customers aren't the only ones excited for each new bottling. "Stranahan's Snowflake is my favorite project because I get to color outside of the lines and experiment," Dietrich says. "Each year it's a challenge to 'out-Snowflake' the last, and I believe this Crestone Peak spirit is unlike anything else out there right now."
Over the years, Stranahan has engendered a devoted following. Many drove or flew across the country to get here, and the same group of people can be spotted at the front of the line for every release. In the case of this release, Russell Cowden, a Snowflake veteran, is heading up the line, followed closely by another one of the usual suspects, Marcus Wulf. Cowden traveled from Grand Junction, near the Utah border (about a five-hour drive over the mountains), and got to the distillery Thursday afternoon. He's been waiting in line since then.
But no time in line is too long, no temperature too cold for these "Stranafans."
"This is an amazing whiskey," Wulf says. "It's some of the rarest whiskey in the world. They start sales by 8 a.m. and they end sales by 10 a.m.—that is something special."
In the years that Wulf has been coming, he's spent over $2,000 on equipment specifically for the event. From coveralls to a high-quality tent to a propane heater, he's slowly added to his gear every year. "We're the hardest of the hardcore—that's what we call ourselves," he says. Cowden, too, has amassed quite the arsenal of supplies.
"I was the first one to bring a tent, a heater, food to share with strangers. I invite the first 10 or so, or as many as can fit, into my tent to stay warm," Cowden says. "Because once I was out here for 18 hours in negative 18 degrees. It was the coldest and I set the record for the longest wait—that was difficult. It's worth it, though."
Dan Ryan, an aerospace engineer from Colorado who arrived at 1:30 in the morning with a few of his coworkers, agrees. "Snowflake is the best whiskey in Colorado, if not this side of the Mississippi," he says. "It's good stuff, it really is. Every Snowflake is worth it. It's worth it when we sit around at one of our houses. The eventual enjoyment is worth the hours of extreme cold."
But some people in line might not even get to drink the spoils of their time spent shivering and waiting. Charles Wren is in line to surprise his brother with a bottle for Christmas. "My oldest brother in Chicago told me he would pay me if I waited in line for him next year," he says. "When I learned it was this weekend, I packed up all my camping stuff and came here as a major surprise."
This willingness to stand in the cold for someone else isn't so surprising when you consider the other reason why people come here to wait and freeze, and wait and freeze: good, old-fashioned camaraderie.
"We make friends and we meet people. Marcus and I met here," Cowden says. "The top 20 is made up of the same faces, people who are passionate about this camping trip—and that's what I call it, a camping trip. It is about more than just the product in the bottle—which is fantastic—but this waiting for a day and a half to get the first bottles is really about the community."
Finally, with tickets handed out, the moment is here. The doors open and people are ushered inside. There's live music and a sense of relief as feeling returns to limbs and digits. With whiskey in hand, Cowden turns his attention to his post-Snowflake ritual.
"After every release I've gotten home, photographed the bottles, tasted it, then gone to sleep," he says.
Wulf's plan is similar: "Typically my morning-after consists of getting the bottles secured, and then Eggs Benedict with a Bloody Mary—something to provide some hair of the dog—then going home and sleeping."
As people began to file out, bleary-eyed, clutching bright yellow totes with their signed bottles, the biggest question is, will they be back next year? It barely takes a heartbeat for either Cowden and Wulf to answer. No matter the weather, no matter how long the wait, it doesn't matter. They'll be back every year.
Every year, that is, Wulf says with a laugh, "Until they tell us to leave."