14 Bars Around the World That Belong on Your Bucket List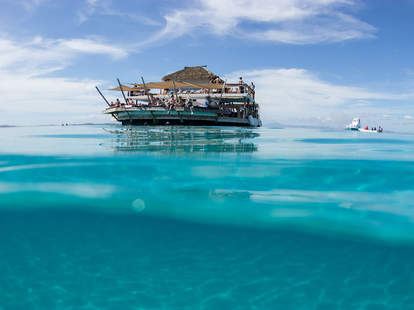 The world is filled with bars, some worthwhile and some forgettable, but there are those certain spots that transcend all expectations. Whether it's a fancy cocktail joint in London or a underwater locale in the Maldives, some bars are worth planning a vacation around. Here are 14 bars from around the globe that belong on your bucket list.
Courtesy of OZONE Bar
Ascend 118 floors to the top of The Ritz-Carlton in Hong Kong where OZONE offers views of the city and a glam urban atmosphere. Order a Tai O Lights, which features both shrimp paste and egg whites, or try one of the classic cocktails. It's worth it for the 'gram alone.
 
There's more than vodka at White Rabbit, Moscow's acclaimed bar and restaurant, which is currently on the 50 Best list. The chic Alice In Wonderland theme will transport you to another world when you arrive, while the domed glass ceiling allows you to take in the whole city at once. Try a drink with local Russian ingredients, like the Tiflis Tea, a warm cocktail made with bee glue-infused vodka, or the Bulbasaur, created with Antonovka gin.
 
Courtesy of Harry's Bar
Opened in 1911, Harry's New York Bar is the home to some of the world's most famous cocktails. Order a Bloody Mary or a White Lady, both of which were created behind the old wooden bar, and revel in the history of the joint, which is plastered across the walls in old photos and memorabilia. The bartenders are grumpy and the drinks are strong—exactly what you want from an old school Paris bar.
 
Care for a drink inside arching walls of bones? Sidle up to the bar at H.R. Giger Museum, a vast, cave-like space that casts you as the main character in a sci-fi movie (or inside an alien's chest cavity). It's modeled after the work of Swiss artist H. R. Giger (of Alien fame). You'll find the aesthetic perfect for imbibing—and even better for social media. Bonus: The drinks are actually good.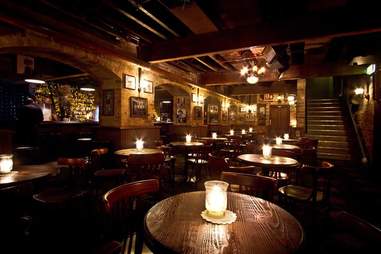 Courtesy of The Baxter Inn
This speakeasy features an unparalleled whiskey collection, with everything from major distillers to small-batch rarities, but you'll want to order one of the innovative classic cocktails from the bar's menu before diving into a few drams. The bar is frequently recognized on "best of" lists, but it's unpretentious and feels like the sort of place where anyone, from anywhere, can sit down for a drink. It can be tricky to find (check online ahead of time), which adds to the allure. As you make your way in, you'll feel like you're stepping back into Prohibition times—just with even more whiskey.
Floridita, Cuba's most famous watering hole, opened its doors back in 1817. But it was thanks to Ernest Hemingway, who often sat drinking Daiquiris along the red countertop, that the bar became bucket list-worthy. Here you can join Hemingway's ghost in a classic Cuban cocktail. Don't forget to bring along your weathered, high school-era copy of The Old Man and the Sea.
 
Courtesy of American Bar
Located inside London's historic Savoy Hotel, the American Bar is known as one of the most iconic cocktail bars in the world. Request one of the four seats at the actual bar rather than a table, and let one of the knowledgeable bartenders guide you through a crash course in classic drinks. Try a Hanky Panky, which was created here by Ada Coleman in the early 1900s, or indulge in one of the notoriously good Martinis (with gin, obviously). The live piano players add to the magic, as do the frequent celebrity sightings.
 
You're not going to find a menu in the dark, narrow space of Attaboy. Instead, a bartender will ask your spirit and flavor preferences and appear with a cocktail that exactly matches your taste. It can be hard to find and there's often a wait outside, but persist and you will be greatly rewarded.
 
Courtesy of Cloud 9
Hop a boat (or a seaplane, if you're fancy) to Cloud 9, a floating bar located literally in the middle of the ocean. Sip a frozen Piña Colada from your sunny lounge chair and then dive into the turquoise waters. Don't worry—the bar has bathrooms, and also some pretty great wood-fired oven pizzas.
 
Grab a cliffside cocktail while visiting King's Landing (sorry, we mean Dubrovnik) at Buza Bar, an intimate spot to sip wine with a view. While the drinks alone don't draw in the customers, the setting and the sunsets are enough to keep them coming. The bar hangs over the water, offering a vast panorama of the city—a great spot for a perfect vacation moment (and your new iPhone screen saver).
 
Courtesy of Subsix
Let's be real: We all want to know what it would be like to be a merperson at a merbar. At Subsix, a restaurant and bar at Niyama, a luxury resort, you arrive by speedboat and descend down a staircase to find yourself in a submerged glass room with fish swimming just outside. The drinks augment the ocean experience with signatures like the Swing 'n Swim, a gin and rum cocktail, and the Dhoni's Sailor, made with Niyama's own aged rum. If you get seasick, well, just drink more.
 
Japanese whisky is all the rage these days, but it's best to experience the spirit in its home country. Star Bar Ginza is small and located in a hard-to-find basement room. Once you do find your way inside, get comfortable. This is place to linger over your drinks, rather than knock them back. The bartenders are serious craftsmen and don't take their job lightly, so you'll be certain to get one of the best drinks of your life. Or, at least, the best drink of your trip.
 
Courtesy of Baba Nest
Thailand is filled with amazing views of the water, but most pale in comparison with Baba Nest, a rooftop bar with endless sights of the bay and the glowing sunsets. Located atop the posh Sri Panwa hotel, the bar is considered to have one of the best sea views in the world, as well as delicious cocktails and a chilled out vibe. You'll need to book your seats far in advance, but it will be worth the effort. Plus, you might have a run-in with Rihanna, a frequent guest of the hotel.
 
Room #9 is known as Chile's first speakeasy. Located on the terrace of the Tinto Boutique Hotel, the bar serves up cocktails with a sparkling view of Santiago. Uber-exclusive (make sure to book ahead), the drinks are carefully and thoughtfully prepared. Order one of the original cocktails off the menu and expect an Instagram-worthy presentation when it arrives at your seat—think fire, smoke and enviably gorgeous glassware.