8 Types of People You Should Never Invite to a Holiday Party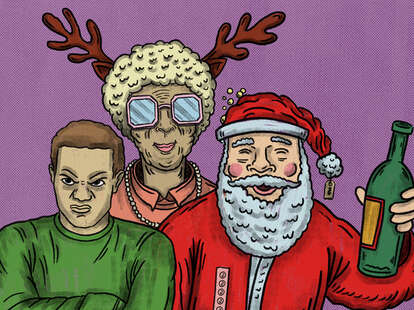 Holiday parties are fairly inclusive fetes. Friends of all walks gather together to swap gifts, chow down on fattening foods, and drink lots and lots of seasonal booze. But don't go thinking anyone in your Facebook friends list is fair game. Here, the eight types of people you should never invite to your holiday party.
The Grinch
The holiday season is a magical time, but a single seasonal grump can break the spell and puncture your winter wonderland. Whether it's the one person who refuses to wear an ugly sweater or the one who complains the whole time about the snow or the one who simply pooh-poohs everyone else's good natured holiday cheer, the Grinch straight up ruins holiday parties. Max can stay though.
The Mistletoe Creeper
Surprising someone at a party by trapping them under the mistletoe isn't cute or festive or holiday spirited. It's gross. But bringing your own mistletoe to a party in anticipation of said "mischievous" sexual assault is worthy of banishment from all Christmases to come. Creeper's got to creep on home.
The Ebenezer Scrooge
While many kind souls always remember to bring a host gift, instantly earning them holiday party cred, others "forget." They "forget" every time. They "forget" at potlucks. They "forget" after strong hints and blunt requests texted to them the day before the party: "Bring beer." These Scrooges refuse to bring anything to a party even during prime gift giving season. Tiny Tim needs you to bring crackers for the cheese or you can shuffle your selfish, curmudgeonly self back to the 19th century.
The Aging Relative
Grandma and that bowl of high-proof Eggnog should never be in the same room. Just think about the danger of putting your older relatives in a room with your closest friends—the two groups of people who know the most embarrassing stories about you together with tongue-loosening alcohol. Who knows what's being said about your secret childhood invisible best friend, Snorks the Donkey?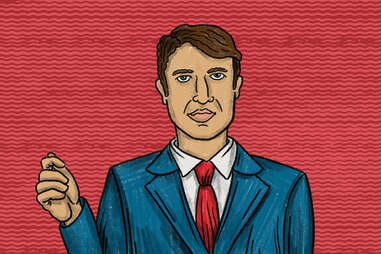 The Future Politician
No matter how much you support your friend's political ambitions, your guests did not intend to come to a campaign rally when they RSVP'd yes to your holiday party. The amateur politician who espouses unsubstantiated political "facts" to willing or unwilling ears alike—especially if they use the phrase "fake news" at any time—needs to quit stumping if they expect an invite. This goes double for the War on Christmas warrior.
The Parent (and Child)
No one wins when there's a baby at a party. The parents don't get to have fun because they're stuck monitoring that crawling ball and chain all night. The host can't enjoy themselves because they're legally responsible for protecting an infant from their sharp-cornered home. Other guests don't get to hear the music over infant shrieks. The babysitter doesn't get that payday she desperately needed for the latest iPhone. And the baby definitely can't afford years of therapy from seeing mommy and daddy getting crunk while wearing fake reindeer horns.
The Boss
The office party, under the watchful eye of your boss, was stressful enough the first time. Don't repeat that obstacle course of social mores in the comfort of your own home. Also, remember all those times you ranted to your friends about how much you hated your job and your crummy boss? Your friends sure do. Even if they do hold their tongues, your pals won't show that fairy tale monster boss the good time you hoped would earn you a promotion.
The Santa Wannabe
Santa brings joy and cheer to boys and girls around the world. Drunk people dressed as Santa, on the other hand, bring terror and trauma. No one wants to know what's in Santa's sack. No one wants to sit on his lap. Everyone wants to leave this uncomfortable situation. When knockoff Santa arrives, you'll see just how quickly everyone else can scamper up a chimney.