These Zodiac Signs Make the Best Drinking Buddies
Having a go-to drinking buddy is a necessity, but not every sign is cut out for it. Pisces, for example, is great company for the occasional night in, but don't count on the solo sign to bar hop the night away. Here, the best drinking buddies in the cosmos.
Mark Yocca/Supercall
Gemini
Those looking to meet new people, romantic or otherwise, need a Gemini in their life. The ultimate wingmen, Gemini are super social and have no problem approaching strangers at the bar, making nice with the bartender, and introducing you to prospective suitors or new friends. You'll probably wake up the next day with a bunch of photo booth pictures with people whose names you don't remember, and hopefully a few phone numbers for next weekend.
Mark Yocca/Supercall
Cancer
Cancers are the best listeners there are, and they'll definitely let you rant about work and fret about your love life over a bottle (or two) of wine. They are the greatest drinking companions for nights spent snacking on cheese, watching TV and drinking on the floor all evening without any judgement.
Mark Yocca/Supercall
Sagittarius
Sagittarius are curious folk, always interested in checking out the newest hotspots and down for adventures at the drop of a hat. Not only will your Sagittarius friend wait in line with you to get into that speakeasy everyone is raving about, they'll also be up for traveling out of town for a distillery tour or booze festival.
Mark Yocca/Supercall
Leo
Leos love to show off, and that need to be in the spotlight just intensifies when booze and bars are involved. They have all the best connections in the city, and can schmooze their way onto even the most exclusive clubs' lists. Expect to indulge in some pricey booze—hopefully paid for by your Leo BFF dropping fat stacks, or at least by the person they were talking up to get inside.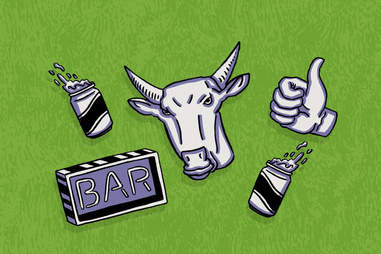 Mark Yocca/Supercall
Taurus
Taurus hates all things flashy and overhyped, especially when it comes to bars. When you're recovering from your wild adventures with Sagittarius and crazy nights out with Leo, Taurus is always there to grab a beer and a shot with you at the local dive. They'll never flake on their plans, and, as a regular, they can get a few rounds from their pal, the bartender, for free.