Somehow get girls by playing video games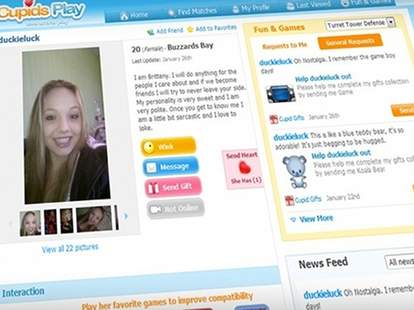 Although video games usually are the things preventing you from getting nice, Seattle-based Cupids Play endeavors to be pretty much the only site to combine actual internet-based gaming with actual lady friend interactions that don't involve a Canadian model girlfriend you met at camp but somehow didn't get to photograph. The site breaks down like this:
Standard Dating Stuff: Once you create a profile (the usual info about your background, appearance, interests, etc.), or connect through F-book, you're free to interact with potential matches via gratis messaging and video chat, or use the site's virtual currency -- earned by spending time logged in/playing games -- to send online gifts or "winks", though how you're supposed to accumulate them is anyone's guess, as it was sung in 1994 by Neal McCoy.
Non-Standard Gaming Stuff: When you tire of winking, CP's got dozens of exclusive social games ranging from a Farmville-style sim, to single player platform joints, to interactive numbers like a team-based guessing game (that requires partnering with other members), or one that lets you challenge potential matches to user-generated quizzes that test things like your ability to "pick the type of art", which should be easy, considering the only real options are Shell or Garfunkel.
Scoring, With and Without Girls: Everyone's gaming history appears next to their profile, and is used by the site to encourage interaction (sending a virtual gift that helps someone you like level up, etc.), suggest potential matches within your basic search criteria, and to calculate your overall compatibility with a particular girl, which you can improve by playing games she likes, so try not calling for, like, three days, then sending a super vague text.
Additional Features: CP's also got a friend request system, and a favorites list that lets you casually stalk girls who catch your eye in a simple newsfeed, both of which use F-book as a model, something your girlfriend can't do, since they, like, don't have it in Canada or something, which is too bad, because everyone would be blown away by how hot she is.