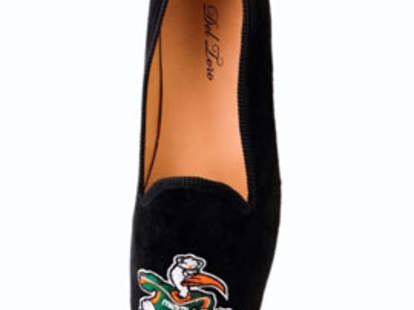 Too often, enjoying leisure activities means enduring terribly un-leisurely acts, like taking three flights to chill on a European beach, or hacking off your toe with pill cutters just to get the finest pain pills to cut with them. For shoes from guys whose respect for their leisure facilitates yours, Del Toro.
DTs're the brainchild of two Palm Beach prep school buddies who dreamt of celebrating graduation by kickin' back, smoking cigars, and wearing velvet shoes with their school emblem on them, until realizing they take nine months to make, and they'd actually have to get jobs to pay for them, and said screw that, let's do it ourselves; they now make velvet Prince Albert slippers normally worn with tuxes, interpret them as more casual loafers, and trick 'em out with emblems and custom monograms/images. All shoes're made in Spain with leather soles and heels, and come in either black, navy, or forest green velvet with black trim; you can go clean or choose from an array of emblems like skull & crossbones, palm trees, soccer players, an old-timey bike with a huge front wheel, or the U of M "U" logo or its pissed-off Ibis -- though its unclear whether he's upset because the 'Canes stink, or your feet do. To go full custom, either input a monogram (after choosing velvet color, thread color, and font you desire), or upload any image (i.e., family crest, martini olive, your frat's initials); once digitized, DT'll email you a shot of what the embroidered version'll look like to make sure everything's good, then proceed with production, and in 1/3 the time of other custom loafer-makers, you'll be the only kid on the block with John Larroquette-face shoes.
As DT just launched the custom site, they'll soon be adding further customization options like trim color in addition to new velvet colors, more schools, (e.g., Ivies and ACC heavyweights), and the option to have shoes made in whatever fabric you want -- pick one that can stand up to the Aegean Sea as you lay heavily sedated in the surf.