Family Housewarming Party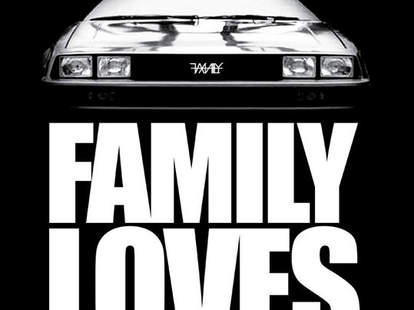 Professionals tend to keep the best for themselves: chefs often save the most elegant and authentic meals for home, while Rub N Tug masseuses often save their most elegant and authentic tears for -- wait, that's a bad example. Saving a kick-ass party for themselves (and you): Family Industries.
A live-screen-printing collective of graphic designers that's long been a staple at massive events (Coachella pre-parties, Sunset Junction, etc) Family Industries's just moved into their own downtown warehouse space, and to mark the occasion, they're throwing a monster party of their own, jam-packed w/ freeness, like the Revolutionary War! Complimentary schtuff starts with booze (beer for sure, liquor, most likely), and grub (from the new heavy-metal burger truck Grill 'Em All, with at least the start of the night's greasiness financed by Family), and extends to clothing, with the guys printing 10 new designs gratis on any blank shirt you bring by; options include "Family Loves DeLorean", with a spread-door image of the Back To The Future car, a graphic of an elephant, rhino, and bear playing in a jazz combo, and one that's just a huge picture of Webster, though thankfully not Merriam-Webster, since, even abridged, only the fattest men could wear it. Entertainment also reigns supreme, with an art show from 15 local talents (w/ representatives who've done everything from oddly-lit cat photos to collages of the human body as a circuit board) as well as music sets from electro-pop DJ Pants Off (a staple at the Avalon), soulful crunch-rockers The Diamond Light, and the brand-new eight-vocalist group The Singers, who are totally post-irony, or something.
If you can't make it Sat, you can still stop by the new HQ to custom-order a shirt (or a slew of shirts), which the team there'll help you design, though chances are someone already owns the copyright to "Masseuse + HJ = :-(".