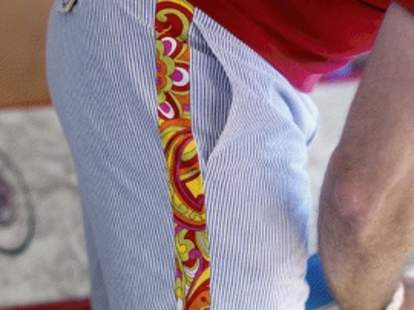 Customizing your clothes is a surefire way to garner attention, but c'mon: does your kilt really need another leather-lined gun holster? Stand apart in the crowd without parting crowds: Franklin and Gower.
Launching today from a duo quite obviously composed of a marketing guy and a screenwriter, Franklin & Gower's a line of work-ready pants/shorts that're each custom-made with a strip of flair running down the outside of each leg, providing you a subtle way to "mix mild and wild" without the worries that you'll get fired from your salsaria. Pairs're made entirely online, via a simple process: first, pick the model (relaxed fit/slim fit/shorts), then waist size and length, and then custom it up with your choice of base fabric/color (eight options, including seersucker, lightweight cotton cord, heavier twill, etc) and the pattern of the side stripe, with options ranging from a thick strip of acid-trip-bright flowers to a narrow, simple, solid-colored orange to a geometric yellow/red/purple number that resembles either what you'd see if you looked through a kaleidoscope, or ate a kaleidoscope, and it was filled with shrooms. If you don't like being creative, you can opt for "F&G Picks" -- pre-made combos like relaxed cotton pants with a blue/grey/orange wavy side stripe or khaki shorts with a blue/white seersucker stripe, convenient as you must diligently stretch your fingers to recognizably flash the Nantucket gang sign.
Soon, F&G'll allow users to swap fabrics, making pants from the most outrageous patterns while toning down the detail stripes -- because you'll need to dress to impress, if you're going to beat this kilt-related gun charge!