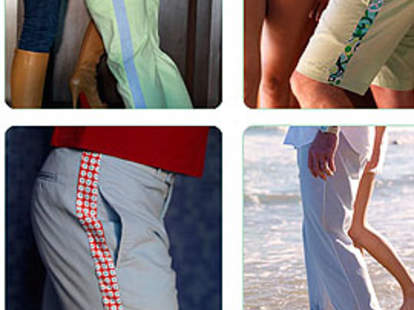 From designer pockets, to dye-drying bakings in the Mojave desert, to magical bottoms made of apples, jeans have been getting all the steezing lately -- but what about the lowly pant? Get some with flair with Franklin and Gower.
Just now in NYC and online, F&G offers mad-casual pants and shorts you can customize with a racing stripe running down the outside of each leg, known in fashion circles as "Pimp My Thighs". Customization's handled at the website: simply pick your preferred fit (relaxed/slim/shorts) and a base fabric/color (eight options, including seersucker, lightweight cotton cord, heavier twill, etc), then select the pattern of the side stripe, from simple, solid-colored sherbets, to a thick strip of 70s-era disco swirlies, to turquoise-colored repeating flowers -- reminiscent of granny wallpaper, minus the smell of musty perfume, and kugel. If overcome by indecision, just opt for "F&G Picks" (online, or at Massimo Bizzocchi), pre-made combos like relaxed white cotton pants with a thin strip of blue, or blue shorts with a stripe of bright yellow flowers, for a look that says "these colors don't run, they merrily skip".
Soon, F&G will let users swap stripe patterns for the base material, creating pants from the most out-there patterns while toning down the detail stripes -- an effect so outrageous, onlookers will swear they were baked in the Mojave desert.