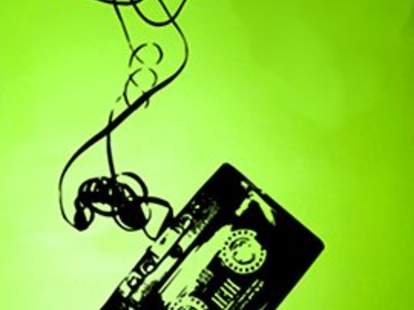 Keeping your pad presentable is all about maintaining the illusion of cleanliness by creatively distracting visitors from "problem areas" like nail holes, shoddy molding jobs, and your roommate Buzz. Helping divert attention with badass wall art, Hu2 Design.
From a cadre of designers outta jolly ol' England, Hu2 peddles pre-made and custom room "stickers" featuring riffs on pop culture and furnishings, printed on low-tack adhesive vinyl that's easily installed and removed from any flat surface, a feature you can appreciate ever since you decorated your sitting room in "My Other Ride Is Your Mom" bumper stickers. Stock designs're available in 11 different colors, and broken down by suggested installation areas: Living Room, proposing an old-school jukebox, skylines (Paris, London, NYC, etc), empty picture frames, and the cutest little mouse holes ever; a handful of Kitchen and Bathroom-themed designs like plants, groceries, plumbing innards, and mustaches that'll give you a true "vanity" mirror; and Bedroom, with a giant cassette tape whose ribbon's been yanked out, a motor-driving hamster wheel, and monsters who look like they're peeking out of your closet, because they're scared to death to do anything without Kevin Arnold. Additionally, Hu2's hawking some sweet tribute wall stickers to notorious Brit street artist Banksy, including versions of his iconic anarchist British royal guard, red balloon girl, and umbrella and parachuting rat; there're also a line of "Chalkboard" signs, which you can scrawl on to tell your roommate not to come in, so he can just stand outside for a while as you don't get laid.
If you're actually creative, you can get custom with two different text styles and sizes that can be used for your preferred message, or use their Portrait feature, which lets you email Hu2 a photo of yourself to be converted into its own piece of vinyl-sticker pop-art in the color of your choice -- which, if it's of Buzz, should be invisible.