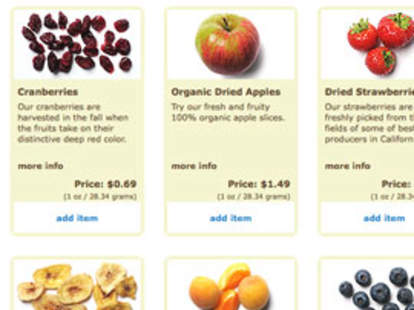 New Year's brings with it all manner of ambitious resolutions -- "I'm going to summit Everest", "I'm going to embezzle more", etc -- but how can you do anything if you can't even make good on "I'm going to eat breakfast"? Helping you start your day strong, MixMyGranola
Miami-based MMG lets you custom blend over one billion different combos of mostly-organic granolas, fruits, and nuts, then ships the finished product in a 16oz container reminiscent of a Pringles cylinder, minus that mustachioed pusher who knows all too well that once you pop, you won't be able to stop. The process: first select a granola base (Organic, French Vanilla, 100% Organic Muesli), then choose any of 16 fruits, from dried apples/pineapples/papayas, to banana chips, to goji berries, enthusiastically described as "the next big thing in the berry world!"; cap things off with nuts & seeds including staples like cashews & almonds plus more obscure, protein-packing nuggets like seeds of chai and amaranth (also known as "pigweed", which is why it's also known as amaranth). Each package is tagged with a "Mix ID" for handy re-ordering, and includes a full nutritional breakdown, so you'll find out how much fiber you're getting, but you still won't know what the hell riboflavin is.
If your creation's still not "You" enough, MMG offers "extras" like mini yogurt pretzels, organic gummy bears, peanut butter bits, even candy corn -- and of course, you don't need New Year's to "Eat More Candy".