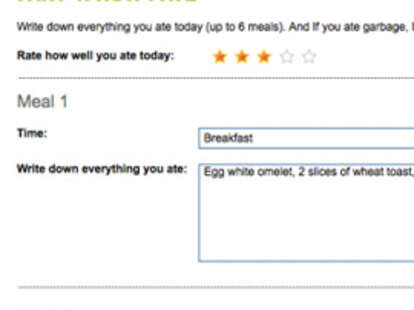 Since its inception, the Internet has kept you glued to your computer, slowly atrophying each appendage save for your right hand, constantly grasping like a fiddler crab around your...Cheetos. Finally using the Internet to kickstart the rest of you, My Body Tutor.
Founded by a guy who dropped his hedge fund day job to pursue his passion for fitness, MBT's your personal trainer on the web, helping you morph your flabby body without the shame of having a grown man watch you do knee bends. And cry. Paradoxically, the e-training process starts with a phone consultation with your personal tutor to explore your current fitness level and eating habits, and suss out your goals (general fitness, raging six-pack, etc); the call will result in a customized workout with detailed exercise breakdowns/schedules, and a lean protein/complex carb diet that accommodates the inescapable distractions of life, i.e., birthdays, client dinners, and meals with "the boys" (friends, as ideally, every meal is one with your testicles). Every night you'll input a rundown of the day's meals and exercise results, along with how you plan to work out the following day, and the next morning you'll receive an email response from your tutor to help keep you on track, which could include a breakdown of new exercises, critiques on your progress, inspirational words, or threats to murder you if you eat one more Ding Dong.
Each membership comes with weekly overview phone calls and 24/7 support, but for an additional fee you can tack on daily calls, providing extra feedback so long as you can pry your decrepit claw away from those Cheetos and wrap it around your veiny, throbbing...hand set.