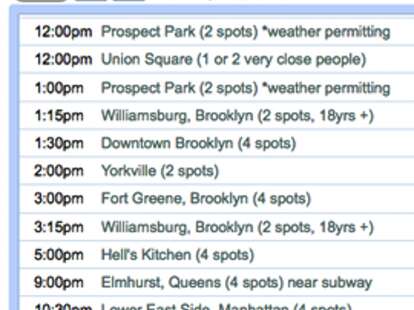 Knowing what's coming isn't always a good thing -- Christopher Walken's premonitions got him shot in The Dead Zone, while Nick Cage's similar powers in Next couldn't stop him from, well, Knowing. For something you'll never see coming, hit up Surprise Industries.
Founded by a trio of NYers who loved the SomethingStore concept but deemed life experiences to be more valuable than random objects, SI partners with a sweeping range of providers to offer a calendar filled with oft-outlandish events where participants have no idea what they're doing right until the moment they arrive, kind of like college, and sex. To play, peruse the mad-stacked slate of offerings to find a day/time/location/group size that works for you (e.g., Sat/10:30pm/LES/4 spots), submit your request, and, once you've paid the always-$25 invoice, you'll receive an email with the location and a clue that'll hint at whether you'll be eating fire, mastering kung fu, or learning from stuntmen how to properly fall down stairs, also kind of like college, and sex. For a full day of mystery, there're themed packages (starting at $150) that offer three handpicked surprises (pulled from a stable of 20-30 per package) plus an appropriate lunch; highlights include the "Superhero", which might consist of mind control class, a zip-line "flight" course, cape-n-mask making, and a meal focused on eating for maximum energy, and "Circus College", where you could walk tight ropes, swallow swords, learn to unicycle, and eat lunch with a clown -- just don't expect Dane Cook to pick up the tip.
For more personalized journeys into the unknown, SI also crafts surprises for private events, from company retreats to bachelor parties, though when it comes to the latter, everyone knows what's coming: Bangkok Dangerous.