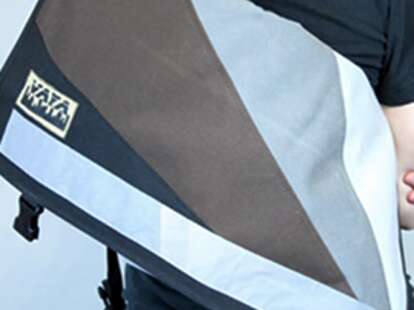 Environmental scientists don't do squat for your daily life -- clean drinking water sounds great, but you can get that in a bottle, and while wiping oil off a seagull is nice for the seagull, you're still stuck wiping yourself. Actually improving your existence, the brains behind Vaya Bags.
Made from scrap and surplus canvas recycled by local sailboat factories, Vaya's the product of an earth-loving, Huntington- based scientist who, grown dispirited from too-expensive/ poorlymade messenger bags, decided to employ her own extensive sewing experience, then co-opted family and friends to help start a made-to-order business (the things people will do for toaster strudels). Standard and wide models feature two 5" square inner pockets plus a bigger slot to accommodate a laptop, moleskin pockets under the flap for pens, iPod & cell phone, and foam padding for your back; meanwhile, the "petite" model loses the laptop pocket but adds a waterproof inner lining, because now that your computer's out of there you wouldn't want your Us Weekly to get soaked. To customize any of the above, pick from 50+ base canvas colors, then add some optional contrasting spice in the form of one or two diagonal stripes, two off-center vertical stripes, a quad-colored "sunburst" design, or a mixture of bike tube and canvas striping; next, pick through a handful of optional functional details, including reflective tape detailing, left or right shoulder orientation, and a stabilizing strap that prevents swinging, likely by forcing you to watch The Ice Storm.
Since decisions are hard, there's also a pre-made line of 100% bike tube products, including same-steez'd messengers, a bi-fold wallet, a belt, and a "hip pouch" -- so never accuse environmental scientists of doing nothing for you, since you no longer have to call it a fanny pack.