A last custom flourish before going off-the-rack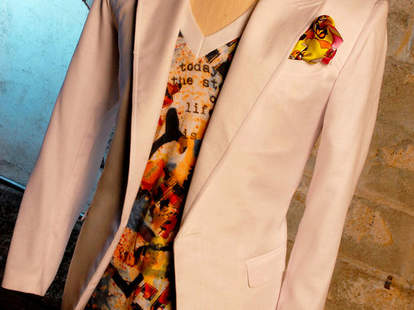 Artists can often use a business-savvy partner to steer them toward riches: it took a visionary producer to convince the metal band that became Trans-Siberian Orchestra that, hey, if you wanna sell millions of records, you gotta play symphonic Christmas music. Making one last drop before embarking on such a partnership, August Alexander.
Heretofore a maker of custom-tailored gear only, Alexander's head was approached by a client (now investor) who convinced him his work would translate into an upscale off-the-rack brand; his latest offerings represent his final custom-tailored line, an adventurously classy goodbye described as "tropical, cutting edge and yet uniquely vintage" (so, that investor is Kenny Chesney?). The new stuff includes a white Western-style snap-up whose red chest piping deftly offsets its rose-patterned fabric; two white/pink/red/khaki blazers in wool or linen, cut classic but light as if for wearing in 1930s Cuba; and a black/gray wool pea coat with a slyly removable set of front buttons, so nothing need stand between you and...prison. Also up are new variations on 2008's line, like distressed, flare-legged jeans with re-thought pocket embroidery that mimics Alexander's lion-head logo, and several fresh prints on its V-neck tees: horizontal stripes (in white/black & black/dark gray), an understated swirly monochrome burnout, and printed desert camo (but never dessert camo, or you'd be devoured by ants).
Because the line's fitted to measure, an appointment's required to handle the goods in person at Alexander's showroom, a converted apartment in the Marquis at The West Village; don't make one, and expect the business-savvy doorman to steer you right back into the parking lot.