After just a year as Stoney's Bottle Bargains, this discount wine peddler's moved into a lower-key, larger space on Lakewood's fringe, adding a pouring room where they'll host weekly Saturday wine tastings (starting with the Oct 16 grand opening), a climate-controlled storage facility with raw-pine lockers, and, soon, mid-priced (~$50) labels as well as Austrian & German wines said to complement the menu at the BYOB Bangkok Inn, allowing you to Pad your gut and Thai one on. Drunken Noodles!
Recommended Video
This Mojito Hot Toddy Is the Destroyer of Colds
Previous Venue
Next Venue
Venue Description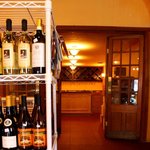 1. Stoney's Wine Lounge
6038 Oram St, Dallas, TX 75206
Stoney's has a tight food menu, an impressive wine list and Jazz. Not just any Jazz either, the owners are both professional jazz musicians and they bring in some of the best Ron Burgundy-caliber musicians in the city. If you want an amazing time sipping amazing wine, with an amazing staff and owners while listening to some of the best jazz in Dallas this is your place.