A sports bar as dignified as Ben Roethlisberger is not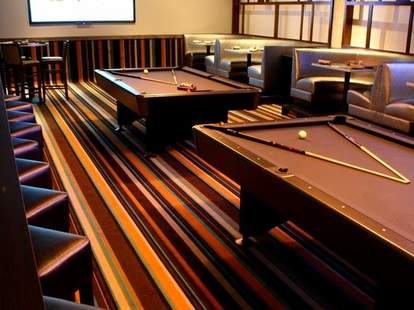 As tempting as it is to revisit the past, sometimes it's best to just move on -- like Vince Neil, now trying to nail a triple lutz instead of Girls, Girls, Girls. Helping a famous address leave Polynesian roots behind: Brackets.
From an all-star team whose resumé lists Mi Cocina, Ferré, Michael's, and Blades Chophouse, Brackets is an upscale sports bar that took over the space vacated by Trader Vic's -- which itself nostalgically took over the space vacated by Trader Vic's -- and expanded it, trading tiki-chic for sleek loft with polished cement floors and soft lighting offset by a smattering of red-'n-aqua wood panels and thick, luxuriant rugs, which will also sometimes call Knicks games. For your by-the-hour renting pleasure are shuffleboard, a pair of pool tables rocking Italian-style slate (prevents warping that creates the equivalent of a skate park for hamsters), a mammoth Wii-equipped screen, 20+ flatscreens visible from every seat in the house, and a pair of Olympic-quality ping-pong tables, which kind of presupposes ping-pong is actually Olympic quality. Liquidity's provided by 30 beers (from American macrobrews to Chimay Red and Maredsous) and cocktails including the vodka/sake Cucumber Gimme, the applewood-infused-bourbon Bacon Whiskey Manhattan, and Stooge-friendly, rum-fueled Curley Punch, which hopefully won't have you saying things that'll get you punched in the curlies.
On the stomach-expansion tip, there's everything from asparagus & green-bean tempura, to Cabernet-braised short ribs, to Texas Kobe beef sliders, to Neapolitan wood-fired pizzas topped with stuff like roasted mushrooms and locavore fave Jimmy's Sausage -- if you're Vince Neil, a fine thing to move on to after years of nothing but Tommy's.