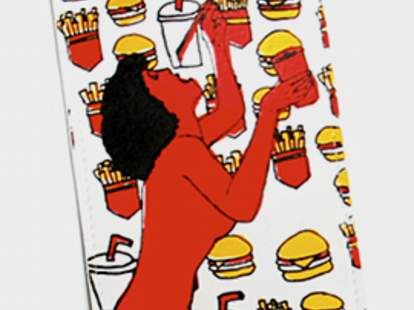 Being "big in Japan" isn't necessarily the end of your American career -- before their US success, Cheap Trick plowed through Tokyo's teen scene, making a return home seem even more enticing/legally imperative. Big there, and aiming for the same here, Burger & Friends.
From a Mesquite-raised UNT sociology alum, Burger offers up wallets, sunglasses cases, and other accessories whose styles are summed up by the designer as "sci-fi meets 80s fab meets fast food"; the line's just now gaining stateside traction, but Japan hungers for it more ravenously than "1993 Wesley Snipes Style!" Oakleys. Featuring full zip closures and bill/ID/credit card slots, the "Beefy Metal" bi-fold series includes colorful numbers like "Bad Animals" (caveman-style animal drawings from the same-named Heart album), the red & yellow on white "HTDs" (a repeated french-fry sleeve motif), and "Voxxx": somewhat evoking Kenny Loggins' Vox Humana album, its full-lipped woman/lady-cyborg mash-up conjures a fantastical world in which Loggins could create hit songs not also featured in hit movies. For your peepers, the "Cheaters" line of sunglasses cases come with surprise Wayfarer/Cat Eye-ish shades inside, and include hot femme action like "Shake Queen" (devilish brunette poised to lick straw as burgers/fries/drinks rain down), "Baad Katz" (yellow & black cat-suit'd chick lounging on pair of shades), and the thong'd-blond "Tiger Beat" -- though the fact that even grown hot chicks still follow teen idols is an Efron-t to your sensibilities.
Burger also serves up far wackier lines, like Mr. Wrister coin pouches (worn like a watch), and the fry-sleeve-shaped Sir Frenchy Magic Wallet -- a big-in-Japan item that will end your career in America.