Meat-wiches attain Celebrity status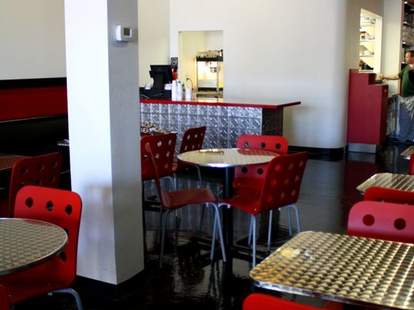 Exacting professions can take their toll, until the work that once filled you with pride now makes you wish you'd gotten into something mindlessly easy, like driving a bus, or writing for Gary Unmarried. Simplifying their existence, the family behind Burger Spot.
Comfortably retro-future with red seating under gleaming stainless steel tables and murals painted by an SMU art-schooled relative, the Spot comes from the same clan that, for 22 years, ran Celebrity Cafe & Bakery, which they finally sold in '08 partly to relieve the stress of it always being time to make the donuts. The new, less demanding but still ambitious operation's centered on what they say are the only all-natural beef burgers in town, as well as local-sourced organic produce, hand-cut cheeses, and baked-fresh buns; using 1/3lb hand-formed patties, creations range from the "Wild Bill" (olives/jalapenos/tomatoes blended into the meat), to the cheese-pocketed "Stuffed Cheddar", to the Frito/cheddar/salsa/refried bean "Alamo", which you'll remember just before the anesthesiologist reaches "8". But wait, there's more: secret-marinated tenderloin & chicken kebabs, home-style cheddar/paprika mac, fresh-slung purple potato chips, Frito pie w/ family-recipe sharp-cheese chili, and "Funnel Cake Fries" with raspberry dipping sauce, prepared tableside when your big brother holds you down until you cry/giggle-pee your pants.
Spot's BYOB, offers free Wi-Fi, and eases green consciences through a next-level recycling program; the family expects to start franchising in 1-2 years, thereby making money the most pride-swelling way possible: working less while others work Mohr.