Stimulating stains from Tulsa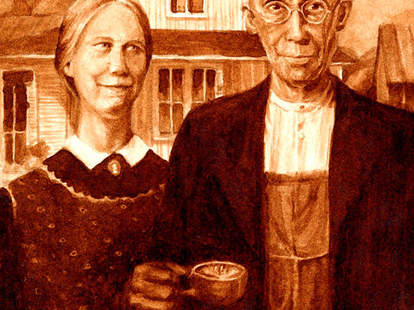 Coffee consumption's an indispensable morning ritual, clearing the mind, enlivening the senses, and hastening the onset of an even more indispensable morning ritual. Now incorporating the Mud of Life into fine art, the lady behind Coffee Creations.
A native of Tulsa, CC's creative force reproduces famous artworks using a watercolors-like process that incorporates layer-upon-layer of espresso, an innovation suggested by a barista at her local coffee shop, who immediately regretted giving away the greatest idea he'd ever had. While some classics are faithfully reproduced, many receive java-inspired tweaks: in "Americano Gothic", the farmer brandishes a cup of Joe instead of a pitchfork, and in "The Drinker", Rodin's "The Thinker" holds a steaming mug; meanwhile, in "The Creation of Coffee", Adam blesses the Lord with a French Press pour, as the One True God doesn't do the Juan True Valdez. Commissions are also an option, with requested re-imaginations so far including both Matisse's "Mme Matisse: Madras Rouge" and National Lampoon illustrator Rick Meyerowitz's 1970s casting of the Mona Lisa as a gorilla, a move that caused art fans worldwide to exclaim, "Quit appearing to follow me with your eyes, you damned dirty ape!"
All pieces are also peddled as detailed prints, greeting cards, and magnets, with T-shirts on the way, as well as mugs and...wait, why are you leaving your desk? What do you mean you're going to "finish reading this on your BlackBerry"?