Dallas improv troupe dabbles in real estate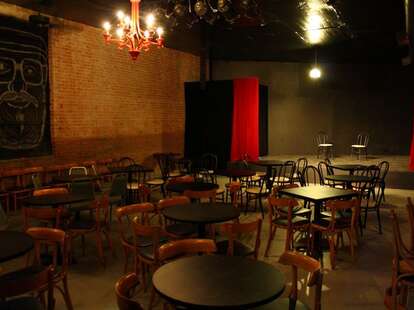 It's hard for any operation to gain momentum without a home base, which is why the American Society for the Advancement of Hobos is one of the nation's least effective PACs, despite the excellent beans they serve to anyone fast enough to hop into their annual meeting. For an improv company going from homeless to home-owning, pop into the Dallas Comedy House.
Opening today, DCH's a performance space and comedy school run by a former engineer and an ex-Lexus employee who, tired of booth-crashing at Ozona, moved their troupe into a blackened, brick-walled theater lorded over by a Gothic iron chandelier and an eerie chalk portrait of...some bearded dude. Entertainment will be long-form improv only (no Who's Line-type stuff), with a focus on local talent, though an Austin sister theater'll regularly drop in, as well as guests like Chicago's Leno-ishly named Jason Chin and LA's Studio 8, who the next morning will be auditioning for America's Got Talent (and with Howie Mandel joining the show, who can doubt it?). To make you hilariously fat, the kitchen's pushing simple fare like the "Bar Companion" meat/cheese app platter, chili cheese nachos, and a same-smothered hot dog; meanwhile, the long, gray-, white-, and red-tiled, granite-topped bar generously pours $3 wells, $5 wines, and no beers above $3 -- prices that'll hinder your ability to do stand-up.
If you're hoping to do more than watch, DCH's classes cover four levels of improv instruction as well as comedy writing and occasional workshops by out-of-town talent -- who, if they arrive hobo style, will demonstrate that some of the best comedy arises from deep inner train.