Parking near a runway to watch planes take off allows you to consider deep, metaphysical questions like "Where am I going?", or "Is anywhere else better than here?", or "What the hell is a biscotti cookie?" Helping you never find out, Delta Charlie's Bar and Grill.

Outfitted by the original Gypsy Tea Room/Metro Grill crew with swirl-brushed metal furniture, 270 degrees of aluminum-pane windows, and a fire-engine red Big Ass Fan, DCBG's a full-service...B&G nestled in the heart of the private-planes-only Dallas Executive Airport, complete with a sunny patio right out by the tarmac, a brazen move for which they deserve big props. Prepped in the kitchen that also provides DEA's in-flight catering option (the wealthy like it, so you know it's good), the from-scratch fare starts with apps like "Mike's Texas Chili" (no beans, of course), "Biggest Little Joes" sloppy sliders, cheesy "Home on the Range Dip" w/ Buffalo pulled chicken, and "The Banditos": cream cheese-&-bacon-packed battered jalapenos paired with bacon-wrapped shrimp -- so it's a good thing 5'7" ex-Eagles DB Mark McMillian isn't Jewish! Entrees range from the garlic-buttered "Dalton's Strip", to fried baby backs, to build-your-own pizzas, while a dirty sandwich dozen includes a Texas Toasted, pepper-marinara'd meatloaf and the spiked-meat "Executive Burger" -- no matter how lousy a job you do managing its assets, you'll still walk away fat.

To help you become a frequent liar, the bar's pouring frozen margs, plenty of whiskey, and 21 bottled beers from Negro Modelo to Killian's; they'll also stock just about any libation by request -- how hard the booze'll be depends on whether you're the fish, or the chicken.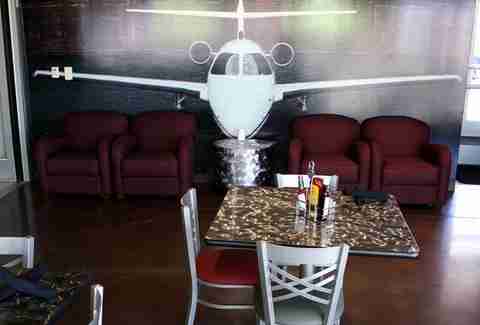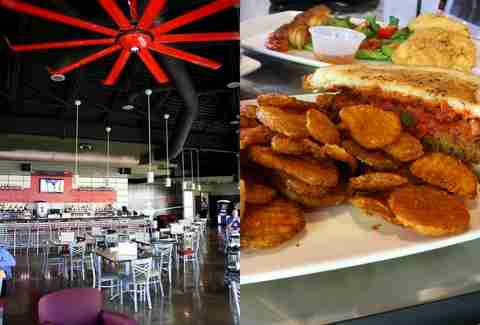 Previous Venue
Next Venue
Venue Description
1. Delta Charlie's Bar and Grill
5303 Challenger Dr, Dallas, TX 75237
Outfitted by the original Gypsy Tea Room/Metro Grill crew with swirl-brushed metal furniture, 270 degrees of aluminum-pane windows, and a fire-engine red Big Ass Fan, DCBG's a full-service...B&G nestled in the heart of the private-planes-only Dallas Execu