Cali-born chef brings fresh eats to old Ball's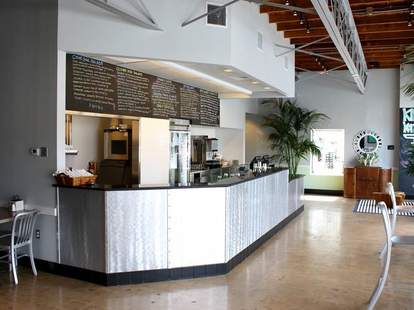 After moving to a new place, you can make a great living exposing people to the culture you've left behind -- take Yakov Smirnoff...no, wait, take Yakov Smirnoff, please! Presenting the places she comes from on a plate, the woman behind Dive Coastal Cuisine.
Now serving lunch (dinner starts Thursday) in Ball's old Snider Plaza space, Dive's headed up by a SoCal-raised chef who worked in Miami and Italy before migrating to Dallas, her mom's home town; the healthy menu pulls from the Cali shore, plus the Caribbean and Mediterranean, while the insides have a whitewashed 1940s-South Beach vibe, with bright metal trim set off by navy curtains, ceramic seashells, and teal-toned photos of mid-century swimmers, back when the Butterfly Stroke was still the Caterpillar. Oceanic bounty includes catch-of-the-day ceviche with plantain chips, sauteed, grilled, or bag-cooked market fish with 1 of 5 sides (asparagus, corn on the cob, Boursin mashed potatoes...), chorizo-abetted tomato-garlic-bubbly mussels, little necks on pesto angel hair, and fish/fried fish/spicy-shrimp "Coastal Tacos 3 Ways" (presumably the fish is a grouper). Ciabatta sandwiches and wraps include bbq-ragu & pulled pork, serrano & cheese, and grilled churrasco steak with onions, peppers, corn, avocado, pico & pepperjack -- also a stealth move for those with an incomplete set of condiments on their table.
Most of Dive's drinks are on the refreshing side (organic iced tea, Polar Club soda, fruit frappés), but there are four inventive beer/wine cocktails (the iced tea/raspberry puree/agave nectar "Pike" super-sangria, the Corona/spicy Clamato/lime "Gainer"...), plus a few standard beers and coming-by-fall microbrews from Cali, Montana, and Brazil -- a place where, if you don't get out, the Party will end up killing you.