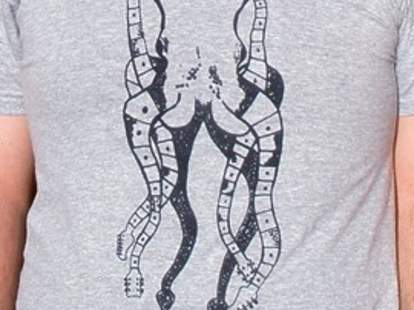 Some of America's most important figures have been self-taught: without schooling, Jimi Hendrix pushed the boundaries of the electric guitar, and Steve Jobs pushed the boundaries of where you could listen to the electric guitar alone, with no friends. Self-teaching his way through sweet screen-printed tees, the gent behind DowdyStudio.
Dowdy's run by a Grapevine-bred Okie transplant whose T-shirt-friendly art has attained the upper echelon of accomplished-amateur status thanks to early encouragement from art-hobbyist parents; his unguided experimentation also led him to an old-school screen-printing process that wears out plates quickly, guaranteeing limited runs, and, if things go well, a Cadillac-driving plate supplier. Many designs morph instruments into living things, such as the just-released-today Guitar Rootings (sprouting tree with a headstock/fretted neck as trunk), Rock Hand (tuning-peg'd split headstock forming devil-horned hand), Grand Whale (w/ piano keyboard as teeth), and Rocktopus, with guitar-neck arms and a head shaped like the F-hole guitar preferred by jazz musicians -- though this octo's favorite jam is clearly "Damage, Ink". The rest of the motley, rough-hewn crew includes the crazy-eyed Sketchy Owl, the wide-socketed, Dia de los Muertos-ready Three Dead Skulls, and the bearded, horn-helmeted Painted Viking, whose forlorn expression means that, once again, he forgot to snag Mrs. Eiriksson that new electric citrus juicer during the last pillage.
By request, Dowdy also offers hand-dyed versions and varying color combos; he'll even do custom-illustration orders, which have so far included a caterer's logo and a series for a Bay Area client incorporating the Golden Gate -- which pushes the boundaries of what you can jump off of, when you tire of iHavenofriends.